The Best Blogging Courses that Helped me Start Earning over $2k per month with my Blog
These are the tried and tested courses that helped me bring in over $2k a month with my blog that I want to share with you!
There are a lot of blogging courses out there to choose from, varying in subjects/topics and price.
During my blogging journey I have purchased and taken a lot of courses. But I can honestly say that only a few of those courses really propelled my blog into a money-making business.
You don't want to waste money on courses and education that just won't help you grow and get better at blogging.
But these courses that I am mentioning here can really help you start to make more money with your blog.
These courses will teach you new ways of doing things, they will teach you how to increase your traffic to your blog, how to create alternate sources of income for your blog and more.
These courses are completely worth the money, and if you follow their guidance and information you will be able to bring in more money with your blog.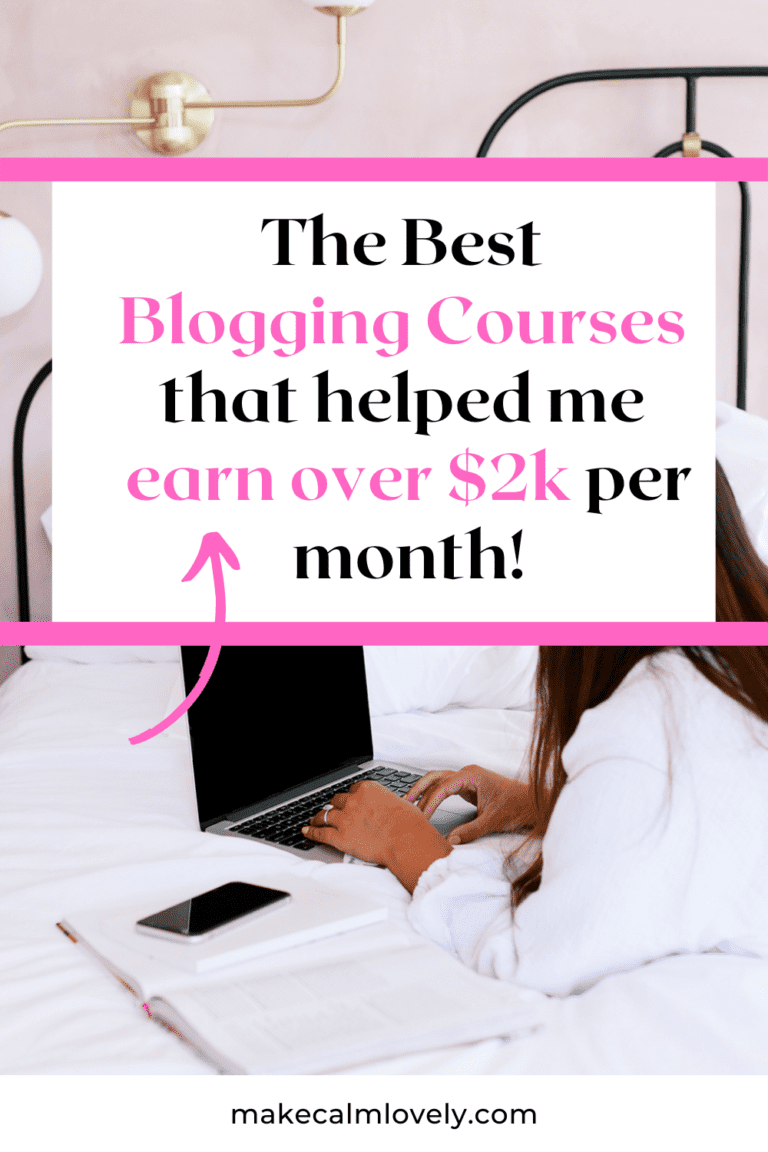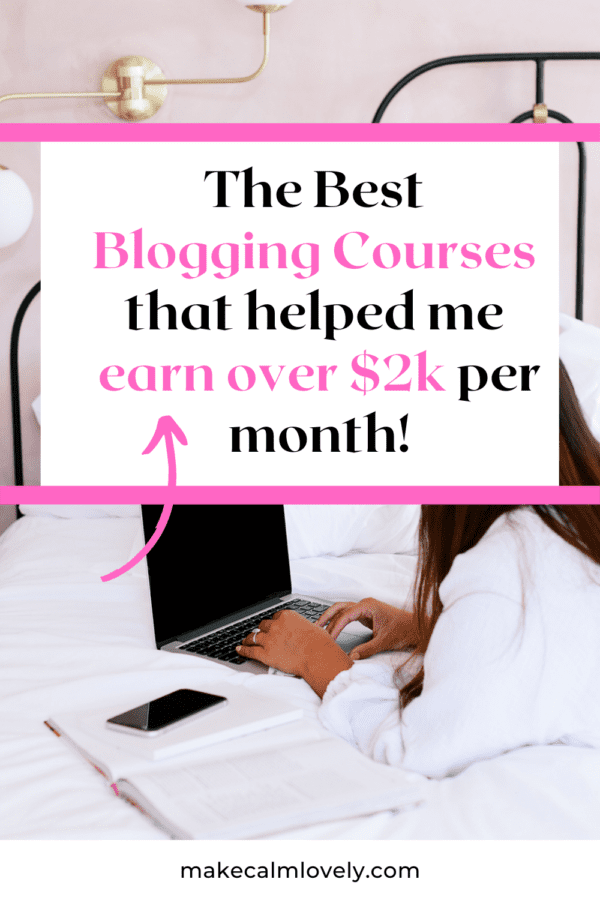 This post contains affiliate links. This means that if you click on a link in this post and make a purchase via that link I may receive a small commission, at absolutely no additional cost to you.
Do you Really Need to Take Blogging Courses?
This is a very valid question that many of us ask especially when starting out blogging. Courses cost money and take time to complete, which many of us don't have a lot of.
But I really don't think that I could have progressed with my blog and started earning more with my blog without taking certain courses and learning many different things.
I have taken courses throughout all stages of blogging, and I still continue to take courses. Because there is always something else to learn, and always a better way of doing something.
You could spend years trying out different ways of doing things, and then finally hit upon the magic way. But why do that when there are courses that can show you proven methods and ways?
I now make money on my blog with advertising, affiliate marketing, and printable sales primarily.
All those things I had to master through taking courses and education. I had to learn SEO (search engine optimization), how to create and market printables, how to increase traffic to my blog, and so much more.
So here are the course I have personally taken and can highly recommend for every step of your blogging career!
Course Recommendations for Total Blogging Beginners
These are the courses that I took as a beginner and which I would recommend if you are starting a blog or do not have a lot of blogging experience.
When you are first starting out with a blog you probably won't have a lot of extra cash to purchase courses. Therefore you need to purchase courses that are affordable and will do what they say.
Beginner bloggers need courses that will show them how to start a blog and then how to grow that blog.
Especially important for beginners is traffic generation. You need to get eyes on your blog and your posts.
Beginners also can really start making money very early on with affiliate marketing. This is where you promote products by others and bring in a commission for doing so.
These courses below will help you learn how to start a blog, how to start getting traffic to your blog, and how to start affiliate marketing.
If you master these things it will propel your blog into the next level.
Blog By Number by Start a Mom Blog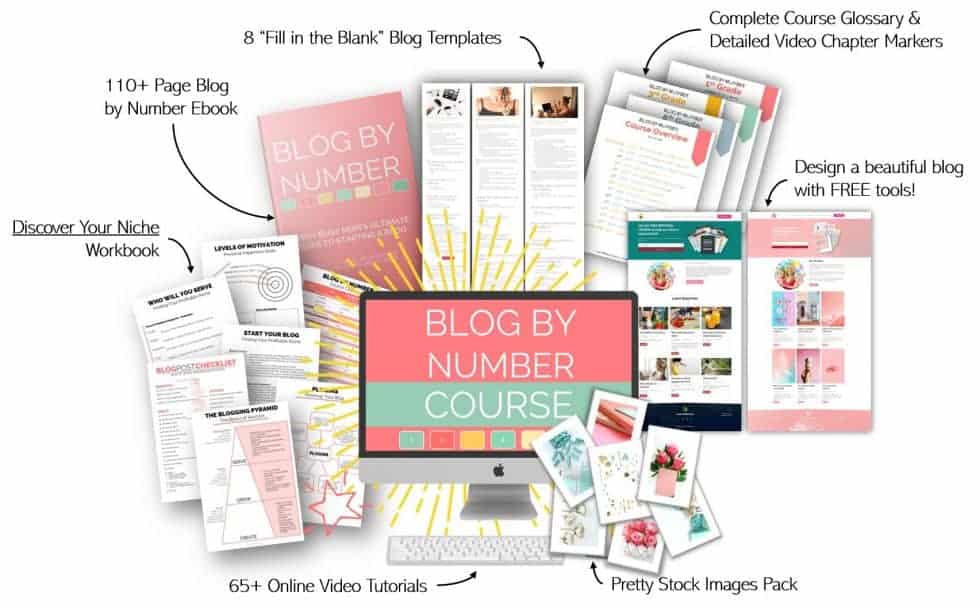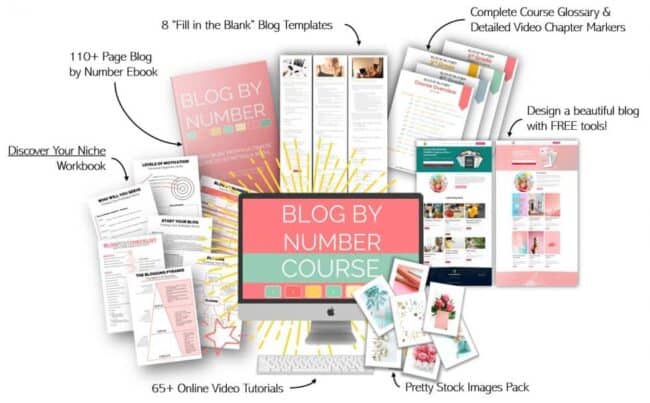 Start a Mom Blog have excellent courses for bloggers of all levels. But they really do lead the pack with courses for complete beginners.
Blog By Number is an incredibly detailed course that covers absolutely all aspects of starting a blog.
The course covers every step of starting a blog – how to choose a niche, how to choose a name, how to set up your blog, and more.
Then once you have your blog set up, the course guides you through how to write blog posts, how to brand, how to use social media, how to build your email list, and so much more!
Not only does this course cover complete information on all aspects, it includes really handy templates – including ones for blog posts, tools to help you and more.
See my Complete Review of Blog By Number here
7 Traffic Generating Blog Posts by Adventures in Blogging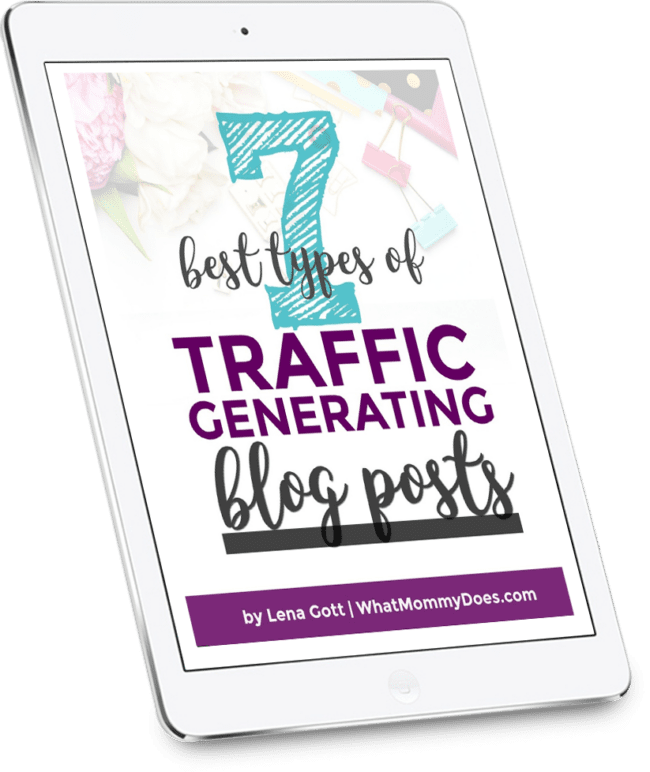 Getting traffic to your blog is the main thing you should be focusing on when you first start a blog.
But you need to know how to write good blog posts. You need to know what types of blog posts get the most traffic.
You need a step by step tutorial to writing a good blog post, that will be picked up by Google, will be found in search engines, and will be read by your followers.
This 7 Traffic Generating Blog Posts is a pdf that is a concise guide to creating the best blog posts to generate traffic. It is inexpensive and so easy to follow and implement.
Affiliate Marketing Superstars by Passive Income Superstars
It is never too early to start bringing in affiliate income from your blog, and you can even start with a small email list or small amount of readers.
Affiliate Marketing Superstars is just an amazing concise course that covers everything – absolutely everything – you need to know about affiliate marketing.
I took this course when I was an intermediate blogger, and I quickly realized I should have had this course as a beginner. So that is why I am recommending it here to beginners.
You may think you need a lot of traffic and followers to do affiliate marketing. But that is not the case. This course specifically addresses that and shows you how you can start immediately with affiliate marketing, and then goes into more advanced techniques.
Read my review of Affiliate Marketing Superstars here!
Easy On Page SEO by Debbie Gartner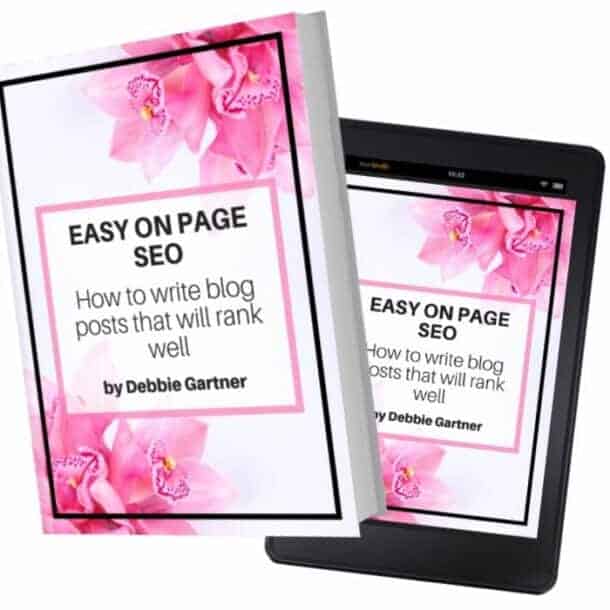 Easy On Page SEO by Debbie Gartner is a fabulous e-book that teaches you an easy 12-step process to write blog posts that rank in search engines such as Google.
This is an inexpensive book, and it teaches you so many valuable and amazing things.
SEO – search engine optimization – is important to get traffic to your posts, and your posts to be ranked, and therefore found. So you should start doing it as soon as you start a blog!
Courses for Intermediate Bloggers
Intermediate bloggers already have traffic to their blogs. They are already bringing in money from things such as advertising and affiliate marketing.
Intermediate bloggers need to develop their blogs and increase their income. They need to learn new ways to bring in income, increase their social media presence, possibly create products and more.
Printables By Number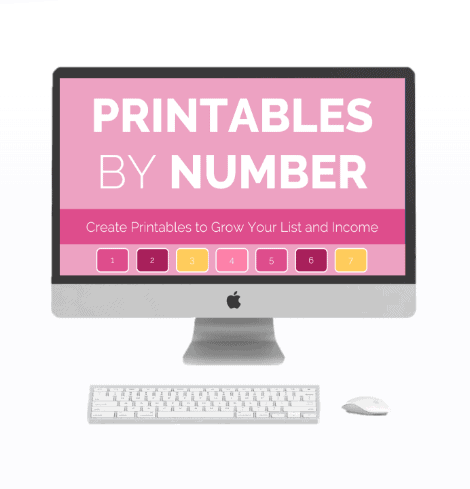 As an intermediate blogger you are starting to do more to increase your traffic and income, and you will probably be focusing on different income sources.
Printables are a great way to bring in an extra stream of income for your blog. But not only that, creating printables and knowing how to can help in so many ways on your blog.
You can create amazing opt ins and free products that will lead to people signing up for your email list, and you can start creating products to sell such as ebooks and more.
Printables by Number from Start a Mom Blog is a great concise course focusing on all aspects of creating and selling printables.
You can read my complete review of Printables by Number right here
Six Figure Blogger by Create & Go
You may have started a blog and now you need to increase your earnings and spread your wings a little with products etc.
Six Figure Blogger by Create & Go aims to take you to that place where you can start earning six figures with your blog.
It goes over affiliate marketing, creating digital products and services, high converting sales pages, email marketing mastery, and so much more.
This is the course that gets you from being just a blogger who makes an average amount of income each month to a blogger who is making a six figure income and has greatly expanded their blog and business.
Stupid Simple SEO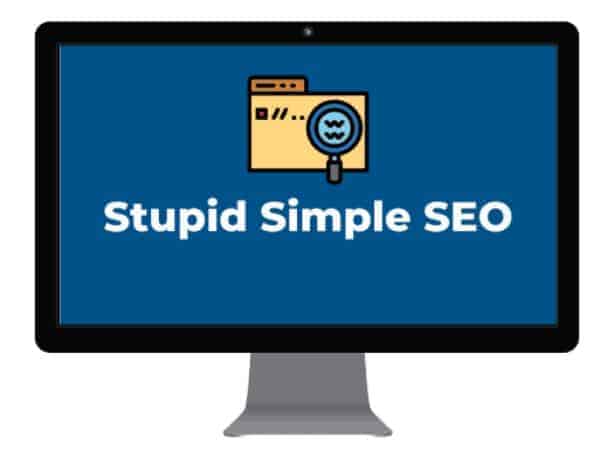 I would have to say that this course is pertinent also to beginner bloggers, as it is all about mastering SEO (search engine optimization) that is vital to getting your site listed in Google and found.
So I do also recommend this course to beginners, but the reason I chose to place it within my intermediate listings is because it is a mammoth course, and a more seasoned blogger may just find the information it contains a little easier to master.
You can read my complete review of Stupid Simple SEO right here
Courses for Advanced Bloggers
The definition of an advanced blogger is a hard one. Is an advanced blogger somebody who is bringing in six figures? Is it somebody who just knows how to blog and every aspect of blogging?
I personally don't think there are many bloggers at all who can put themselves in the 'advanced blogger' category.
The reason for this is that even if you are making good money on your blog you still need to bring in consistent income.
There are also going to be new ways of doing things, new products released, and the world will change. Therefore even if you are 'advanced' you are still going to need to learn and grow.
Therefore, for advanced bloggers I would pretty much recommend the same courses I would for intermediate bloggers.
I would recommend fine tuning your SEO, bringing in different and new sources of income, getting more readers and traffic and more.
When you are starting a blog, or even if you are a seasoned blogger, you need to keep learning and stay up to date on things. These are the tried and tested courses that helped me bring in over $2k a month with my blog that I want to share with you!