Life with kids is full of stuff! Stuff stuff and more stuff!  Whether it is toys, school supplies, sports supplies, etc, we amass so much stuff with our kids.  Finding ways of keeping everything organized and in its place can really make things easier day to day.  Here is a round-up of some of the best ideas for your kids 'stuff' storage to check out.
Organize Legos
Anyone with kids and Lego will want to read this post!  I remember so many times stepping on little pieces of Lego and really hurting myself.  Those little pieces seem to get everywhere!  It is also so hard to keep Lego kits together.  Your kids probably have huge tubs of mis-matched Lego sets.  Read this post from The Homes I have Made on organizing Lego.
Photo Source: The Homes I Have Made
Organize Kids School Papers
Check out this post from Simple as That with tips for organizing your kids school papers This is another thing in addition to Lego that seems to get out of control!  Kids school papers are so numerous they keep piling up and it is so hard to throw kids papers away.
Photo Source: Simple As That
Organize your kids clothes for the week
Mornings can be really hectic with everyone getting ready for school and work.   Check out this post on organizing your kids clothes for the week from Sweet T Makes Three.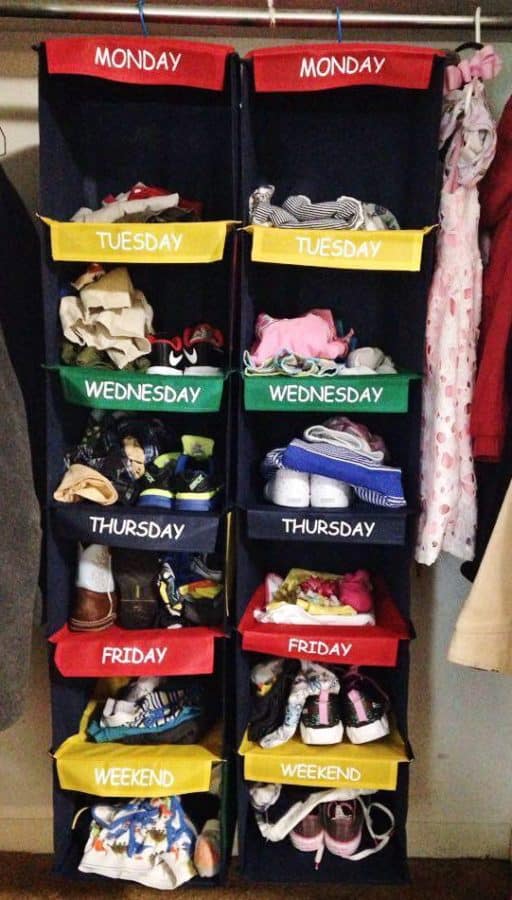 Photo source: Sweet T Makes Three
DIY Dress Up  Closet
Here is a really lovely idea from Rain on a Tin Roof – A DIY Dress Up Closet!  What little girl wouldn't love to have this. It's a really simple but awesome idea, using an IKEA Billy Bookcase.
Photo Source: Rain on a Tin Roof