Do you love seeing before and after pictures of home renovations?  Do you love following along with home renovation projects as they happen?  Do you need ideas for your own home renovations, with tutorials, tips and DIY instructions?  I follow so many blogs for home renovations and home projects, and I get some much inspiration from them. Not to mention I just love to look at all the projects and see just what can be done and transformed! These are my favorite blogs that detail and cover home renovations and projects that you might just want to check out!:
John and Sherry of Young House Love fix up houses and showcase their projects as they are happening. They have fixed up at least 3 houses, including a beach house.  Their blog has over 3,000 DIY and home projects!  Here is one of my favorite before and afters from their blog – a salmon colored living room before renovation, and the living room afterwards that they have completely transformed.
Photos: Young House Love
Alex and Wendy have fixed up two homes in the DC Metro area, a row house in Alexandria, Virginia from the 1880s, and a home from 1908.  Their blog features all their renovation projects on both homes, with DIY instructions and great tutorials.
Here is one of my favorite DIY projects from Old Town Home – a fireplace renovation.  See the before and after photos here:
Photos: Old Town Home
Cassidy runs this great blog all about remodeling projects. They are not just her own and her family's projects. She also encourages you to submit your own projects. Therefore this website is a great collection of all different DIY and home projects, for all aspects of your home and outdoors.
One of my favorite projects was their deck Pergola project. You can watch it here:
One of the reasons I love this website so much is because they are very down to earth and realistic about their home and renovation.  Dana and her husband bought a run down 1960s ranch style home and they have transformed it completely.   They moved from a large 'McMansion' home in search of a simpler life, and I think you will agree that their old home makeover is gorgeous and an inspiration to everyone.
Here is a photo of their kitchen, which they have fitted out with IKEA: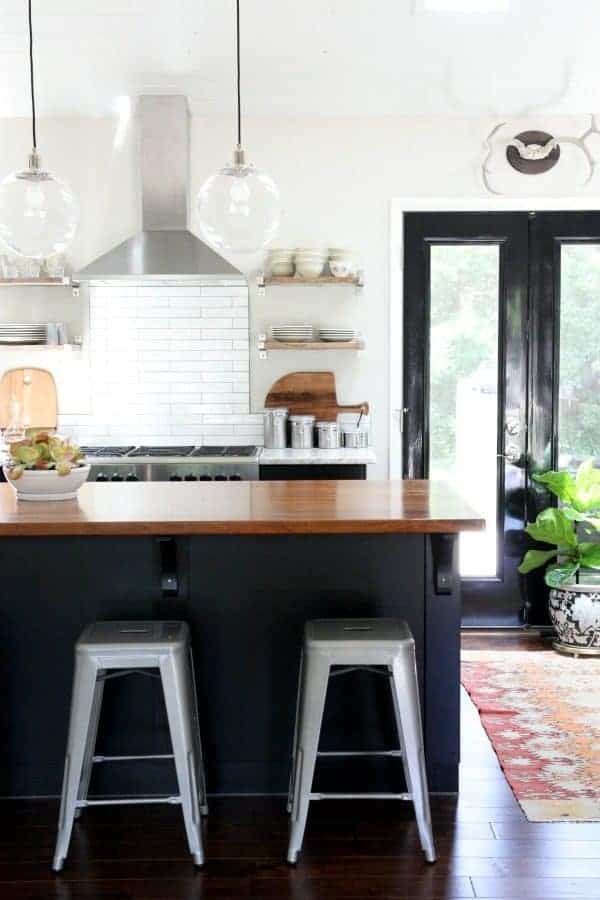 Melissa created The Inspired Room blog to showcase all the projects and great things that she does to her home, and to show others how they can love the home they already have.
This is a kitchen that Melissa has remodeled: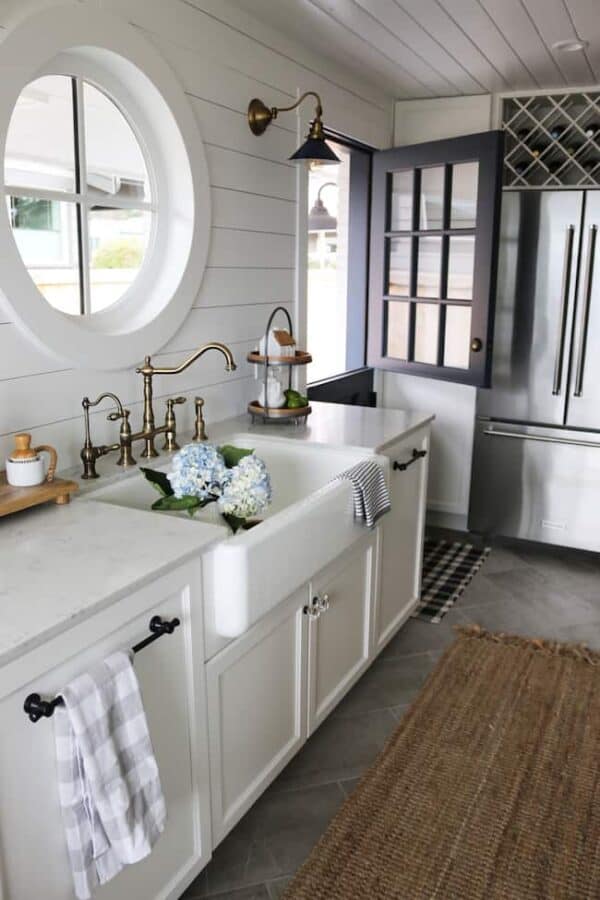 Photo: The Inspired Room
Daniel started this blog from his college dorm room, and then as he moved into apartments and transformed apartments and homes he has documented all his projects. These include a Manhattan apartment, a Brooklyn apartment, and a Bluestone cottage among other homes.
Here is one of my favorite of his projects – a transformation of a very red living room:
Photos: Manhattan Nest
I have been following Molly at Almost Makes Perfect for many years. I love her simple minimal modern style, and she always comes up with the best DIY projects. Her posts on fixing up her home have been so interesting and inspiring, and she has a beautiful home that she continues to fix up in Los Angeles.
This is her kitchen before and after: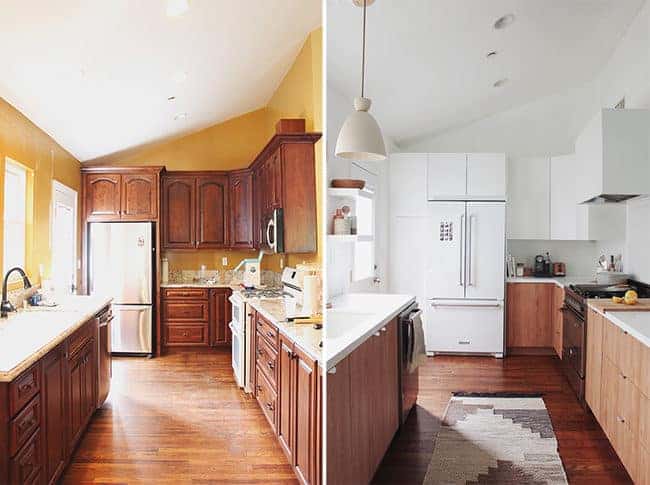 Photos: Almost Makes Perfect
Katy is gradually fixing up an old historic house in Marblehead, Massachusetts, while raising a family. She documents her home renovation projects, Marblehead life and much more in her blog.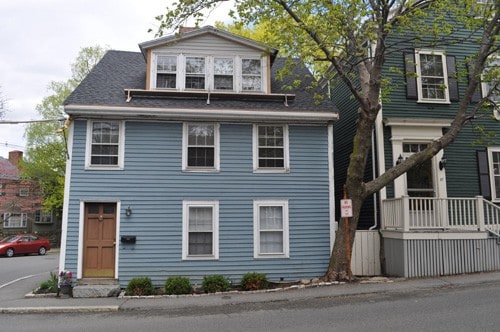 Photo: Katy Elliott
Sarah bought and ugly rundown house and has attempted to fix it up, one room at a time. She documents all her home improvement and renovation projects in her blog.
Here is her guest bathroom renovation project, before and after:
Photos: Ugly Ducking House
Kit bought a 150 year old farm house and has been fixing it up, and getting her new farm into shape for the past few years. She documents everything on this blog. I for one have always wanted to fix up an old farmhouse, and I love following along with Kit's projects and wishing I could do this myself one day:
Here is one of her before and after bathroom projects. I just love this backsplash chalkboard idea!:
Photos: DIYDiva
Liz loves houses, and loves to flip houses, and she documents all her before and afters in this blog. She has flipped over 10 houses and documented them here.
I hope you enjoyed this round-up of some of the best home renovation blogs out there.
Don't forget to check out our ideas here for must have Retro style items for your home!