If you receive a lot of Christmas cards you want to somehow display them, without them taking over the house and driving you crazy.  You can just place them on your mantlepiece or on a tabletop, tape them to the wall etc, but it gets pretty boring and predictable.  If you want some unique ideas for how to display your Christmas cards please check out this post.  I have rounded up ideas and suggestions that are easy and unique, and also fun to do!
Eucalyptus garland Christmas card display from Minted.com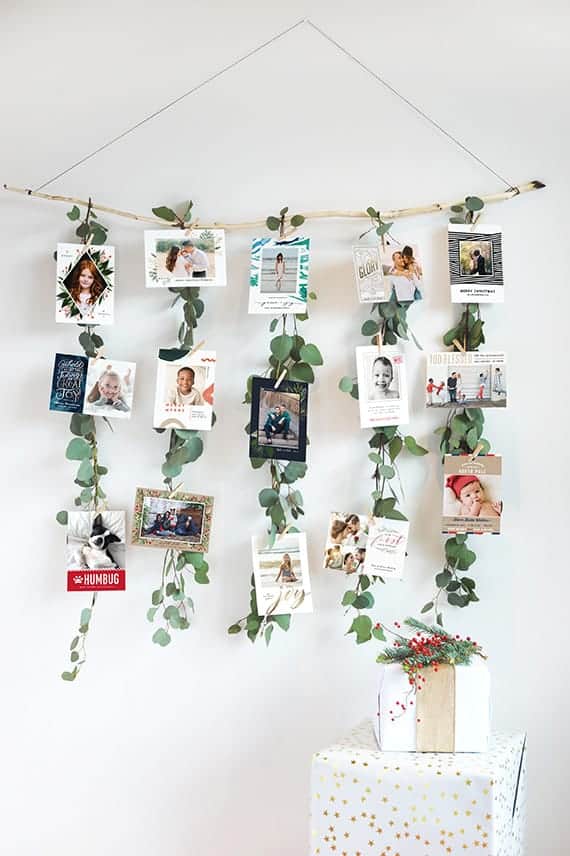 Photo: Minted.com
This is such a beautiful looking display of Christmas cards.  I especially love the use of the eucalyptus adding some lovely greenery to the room.  It looks rustic, yet modern.
Shutters for displaying Christmas cards from Pretty Handy Girl.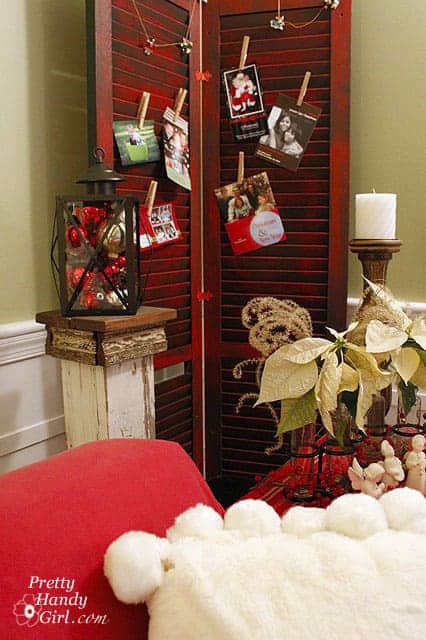 Photo: Pretty Handy Girl
This shutter display of Christmas cards is such an interesting and unique way to display them.  Perfect for the corner in your room that you want to add some interest to.
Clothespin Christmas card wreath from Organize & Decorate Everything.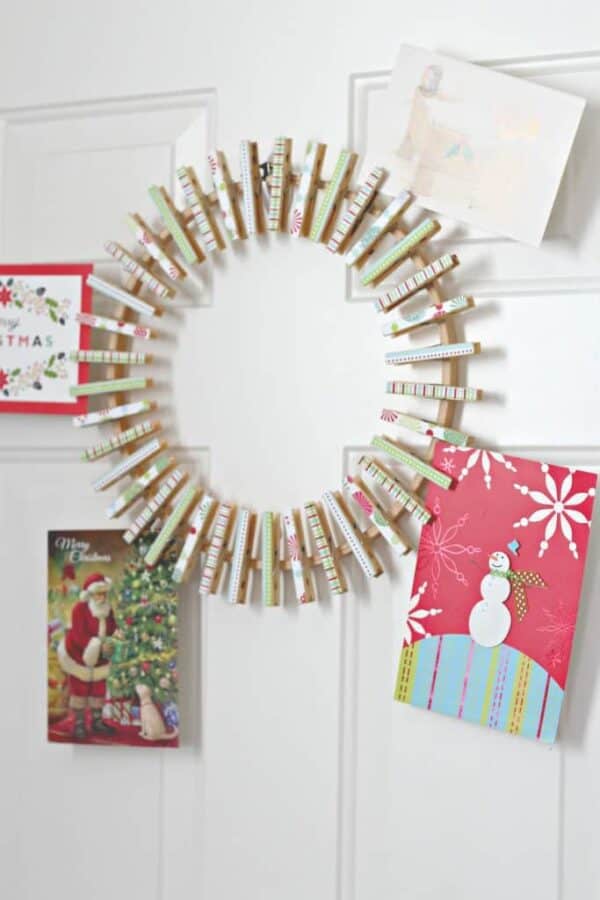 Photo: Organize & Decorate Everything
This is a very easy DIY – all you need is a large embroidery hoop, clothes pins, scrapbook paper and glue.  It isn't that expensive to make, and it looks really unique.
Sleigh card holder from Home with Lo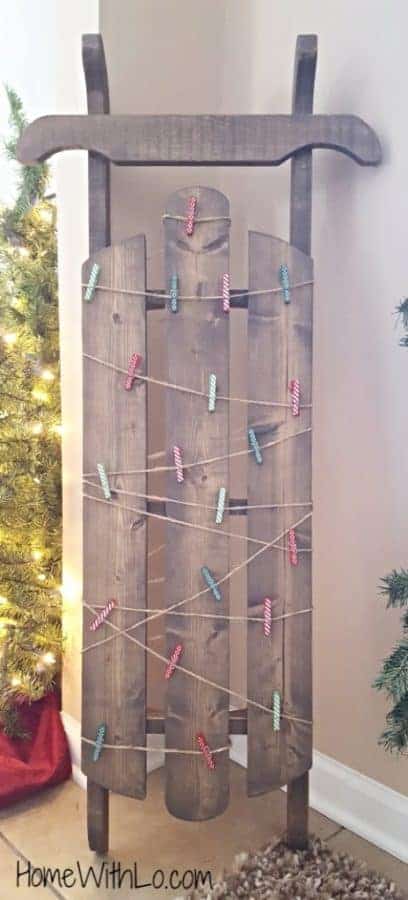 Photo: Home With Lo
There is nothing that says winter more than a sleigh! This is a lovely unique idea for displaying Christmas cards – a wooden sleigh.  This would look so perfect in any room.
Simple DIY Christmas card display from Design Improvised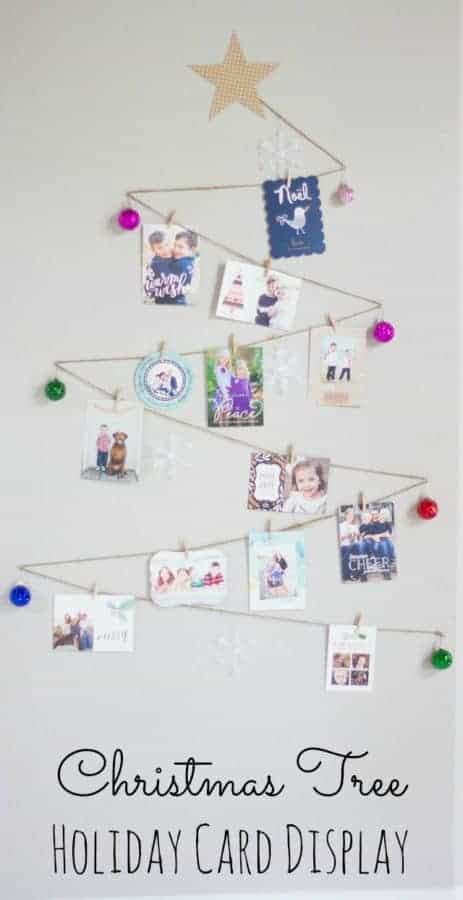 Photo: Design Improvised
This is such a simple way to hang your cards, but it just looks so great!  This DIY just goes to show that you don't need to spend a lot to create something that is really outstanding.
Flip Christmas card display from Hip2Save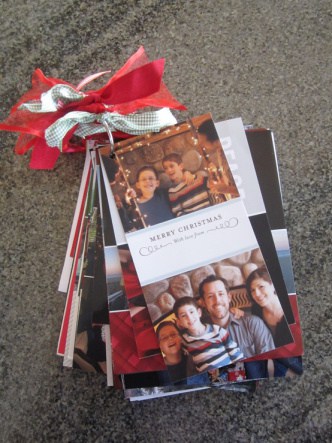 Photo: Hip2Save
I absolutely love this idea! Rather than display your cards on your wall or mantlepiece etc, just punch a hole in the corner of each, thread a ribbon through, and leave them out for people to see and read!
Old window Christmas card display from The Lily Pad Cottage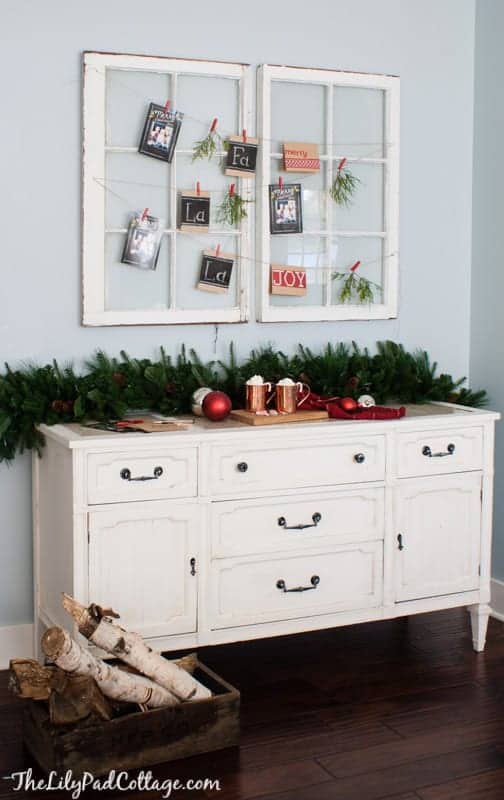 Photo: The Lily Pad Cottage
A great idea for using an old window. Not just for Christmas also – you could use this window idea for all kinds of seasonal decorations.
Kitchen cabinet Christmas card display from Greener Grass Handmade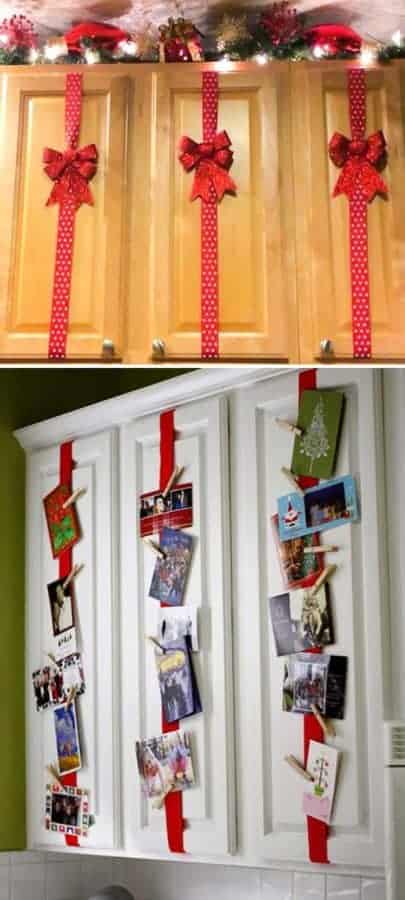 Photo: Greener Grass Handmade
Don't leave your kitchen out of the Christmas fun!  Here is a great way to display your Christmas cards, and at the same time add some Christmas color and fun to your kitchen.
Tree wall Christmas card display idea from Hometalk.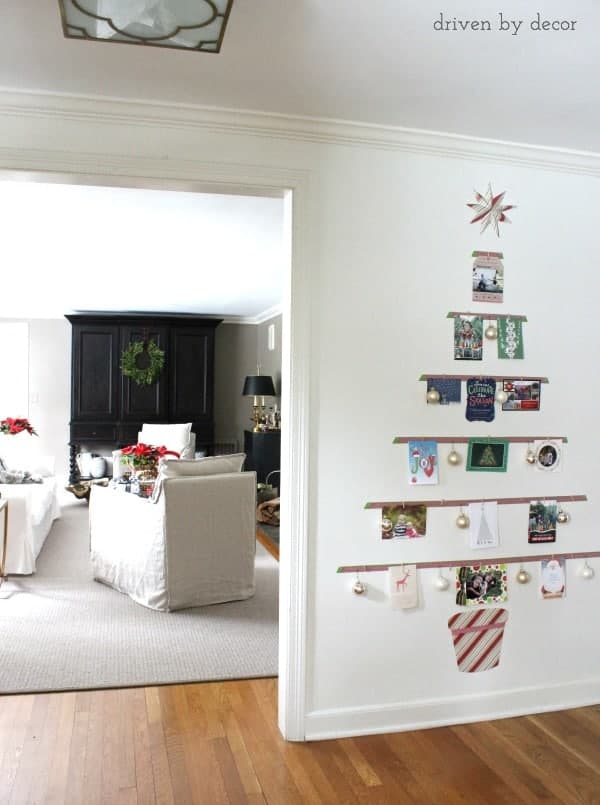 Photo: Hometalk
Another simple but beautiful idea for displaying Christmas cards.  This is so beautiful looking and will be sure to get your guests talking!
I hope you enjoyed this round-up of great ideas for displaying your Christmas cards! Please send me your unique ideas and I will be sure to feature them!