Here are some great resources that I used myself to learn all about blogging and start my blog. These are all the courses and books I can recommend 100%.
Building a Framework – the Ultimate Blogging Handbook & Video Course
What the course consists of: 9 Video modules, in-depth tech training tutorials on aspects of setting up your blog, a 30+ page workbook. Bonuses include a private Facebook group (which is really great!), live video vault with video tutorials,  and comes with the e-book on Building a Framework. (There is also a lower-cost option to purchase just the e-book).
What you will learn:  The course covers all the technical sides of blogging, which can be so hard for a beginner to know and understand.  There are 20 tech tutorials that walk you through everything step by step, in easy to understand language!  It covers everything technical from choosing a domain name and hosting, through to how to install plugins, create an email list, how to edit photos and much much more. It also covers how to implement all your e-mail marketing – how to set it all up and use it, and create great campaigns.  A vital part of blogging is creating content, which is gone through in this course thoroughly – including best SEO practices, and how to produce quality content that your readers will love. It also covers how to build relationships in the blogging world, and how to use social media to your advantage – with an in depth look at each social media network and how you can make it work for you.  In addition the book covers monetizing your site – how to work with brands and use affiliate marketing effectively.  The e-book is the e-book only, without the tech tutorials and modules and video training, but it still packs a punch with information, and if finances are an issue, the e-book only version is a great option.
What I learned from the course:  I learned how to set up a blog in the absolute first place right here!  I learned how to purchase a domain, set up WordPress and find a theme for my blog – it was the absolute first resource I used to start my blog.  Just a Girl and her Blog was one of the very first blogs I came across and followed! I learned everything about starting my blog – including setting up my email list. The tech tutorials were amazing and so easy to follow, because I really didn't have any technical knowledge on how to set up a blog.  Abby makes it all easy to understand and follow, and she talks on your level – not down to you or in hard to understand language.
Cost: Video course and e-book: $97.  e-book only: $27. Totally affordable!
Other things you need to know: Access to the course is available forever – there is no cut-off and no restricted viewing period. You can view the course when and where you want.  There is also a 30 day refund policy.
For more information and to purchase the course and/or e-book click here.
Blog Beautiful: 50 Tips + Fixes to Make Your Blog Grow
What the e-book consists of:  Blog Beautiful shows you how to use your existing skills to create a beautiful blog design, the secrets to blog design, and the key elements your blog needs to be seen and be beautiful.  The book covers how to guide visitors to your blog into becoming followers and engage with you, by showing you every element of how your blog should be beautiful and accessible – including your header, sidebars, sign up boxes, footers, photography, and more.  Each tip can be completely followed through in a day or less, so it won't take you long to really beautify your blog.  The book is easy to follow and beautiful to read and go through.  You may have a lovely theme for your blog, but you still want to do things to your blog that make it different and more personalized, and this book will show you how to do that.
What I learned from the book: So much! I am still going through it all!  The book addresses design questions, such as should your sidebar be on the left or right? and how to not make your sidebar look cluttered. It covers fonts, which as a beginner I was really interested in knowing and learning more about.  The book comes with handy worksheets so I could track my thinking and brainstorm my design along the way.  The chapter on blog posts was invaluable – showing you everything about blog posts from how to make them readable to everyone, to how to space them and make them look and read better.
Cost:  Here's the great thing about this book – totally affordable at just $24!
Other things you need to know:  30-day refund period if you are not satisfied. PDF download.  The tips can be applied to any platform you work on, including WordPress and Blogger.
For more information and to purchase the e-book click here!
Making Sense of Affiliate Marketing School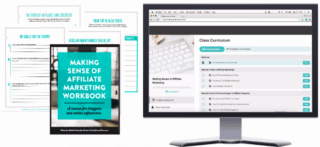 What the course consists of: Ah – Michelle Schroeder Gardner is an absolute genius!  Again, hers was one of the first blogs I came across and followed, and the inspiration to make me start a blog in the first place.  Her success story is pretty unbelievable – from student debt to running a successful blog that brings in more than six figures every year.  Her monthly income amounts are amazing, and much of that is from affiliate marketing.
Therefore Michelle is the absolute best person to teach you how to use affiliate marketing and make it work for you and your blog. This course walks you through 7 modules on what affiliate marketing is, how to find and apply for affiliate marketing programs, rules and disclosures you need to follow, strategies and ways to promote your affiliate links, and much more.  The course comes with handy worksheets to brainstorm and record your ideas and what you have learned along the way. The course also comes with great bonuses – including a private Facebook group that is worth the price of the course alone!
What I learned from the course: In a nutshell so much!  After taking Michelle's course I brought in $130 in affiliate payments within just a couple of weeks of taking the course.  She even gives examples in the course of affiliate marketing programs for different niches, which I used totally to my advantage.  The course is everything you need to know and more about affiliate marketing.
Cost: $197.  That covers the entire course and private Facebook group. It may look high when you first look at that cost, but when you consider how much other courses out there charge, and if you realize how much you can make in affiliate marketing after you take the course you will realize how affordable and what good value that is (I brought in $130 within a couple of weeks of taking the course which practically covered the cost of the course and that was only the start in earnings).
Other things you need to know:  This is a text only course, there are no video modules.  At the end of taking the course you will be offered the chance to be an affiliate for the course, but you have to have taken the course to be an affiliate.
To find out more about the course and to purchase the course click here!
This post contains affiliate links. This means that if you click on a particular link in this post I will receive a small amount of commission, at no additional cost to you.