8 Gorgeous Flower Wallpaper Ideas to Beautify Your Rooms
Wallpaper can completely transform a room, and these beautiful floral designed papers fit with any style of home decor, any color scheme, and will go perfectly in any room of your home.
If your room walls look too dull and you need easy ideas to brighten and transform them, I would recommend you try out floral wallpaper murals.
One thing that makes flower wallpapers the best choice for your home is their range of versatility. There are multiple types and designs of floral wallpapers; thus, you can easily find the right design to transform the interiors of your home, and every room of your home.
Another reason why I recommend floral wallpaper murals is because they fit perfectly in vintage, contemporary and modern homes. In addition, the current floral murals feature excellent classic styles that blend well with other home decors.
In this article, I show you the top 8 gorgeous flower wallpaper ideas to beautify your room.
This post is sponsored by Ever Wallpaper. This means that I have received monetary compensation for publishing this post. However, all opinions are my own and I only promote products and companies that I feel are a good fit for my readers and are helpful to my readers.
White Orchid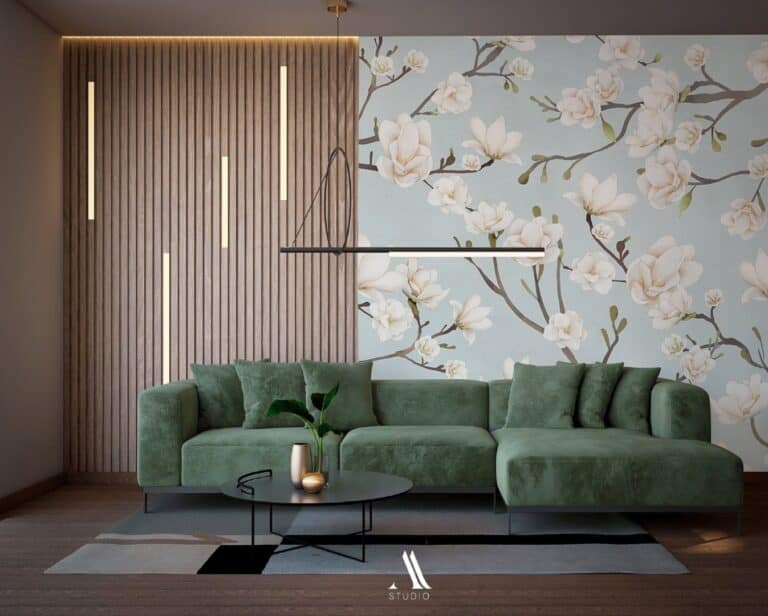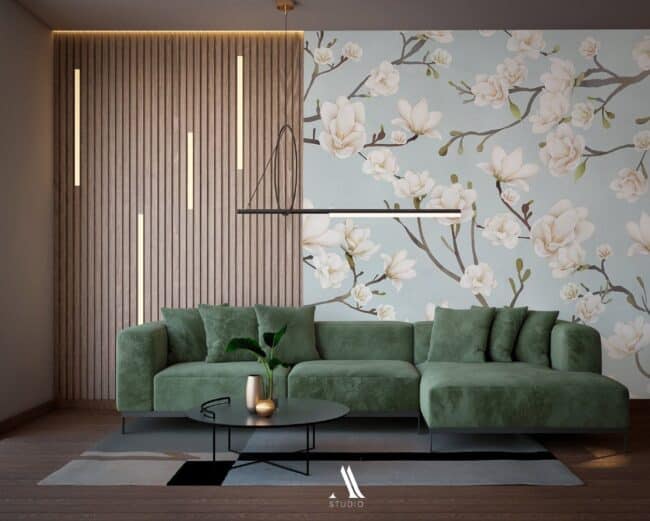 Design your room and accentuate the decor in the room by adding this magnificent white orchid wallpaper mural. The wallpaper is suitable for bright colors or decor pieces since the white flowers stand out.
The blend of the flowers and a baby blue wallpaper background creates a beautiful display on your walls. Note that this wallpaper is sold in different sizes. So, measure the room space, and use the measurements to customize your purchase online.
Pink flowers and Leaves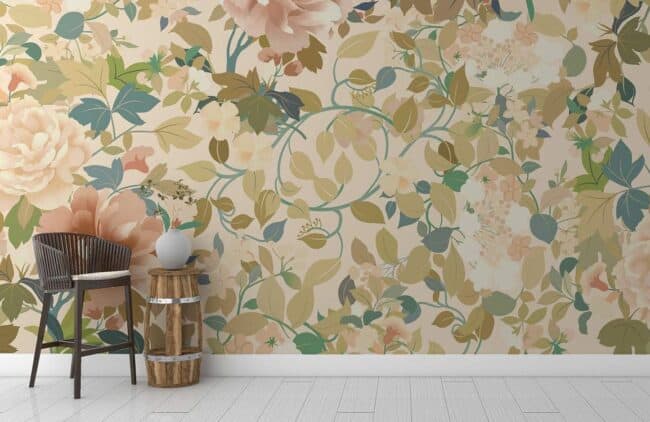 I would recommend this flower wallpaper mural for people who need to design their walls as the focal point in a busy area, probably in a restaurant or a bar.
The wallpaper has bright colors, and the multiple flowers and leaves design creates a beautiful garden-like illusion on the wall. With this wallpaper, you don't necessarily need to cover the entire walls of the room. Find a specific area you want to create a statement on and then install the wallpaper mural there.
Golden Vintage Flower Wallpaper Mural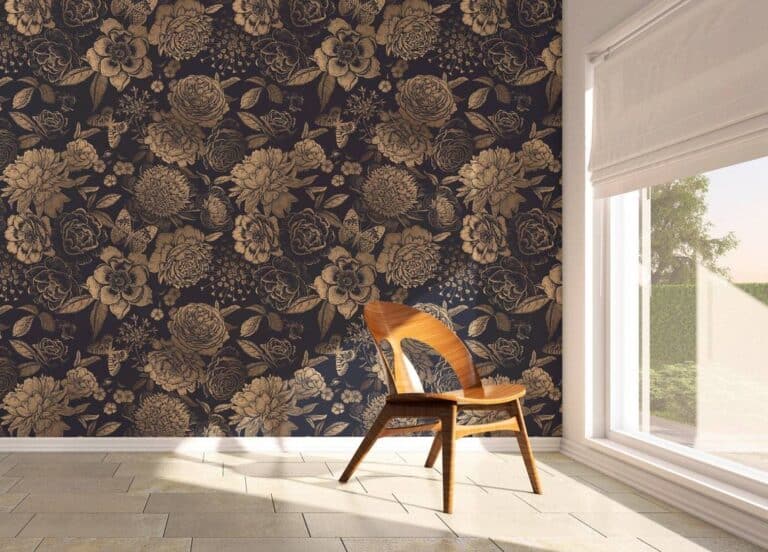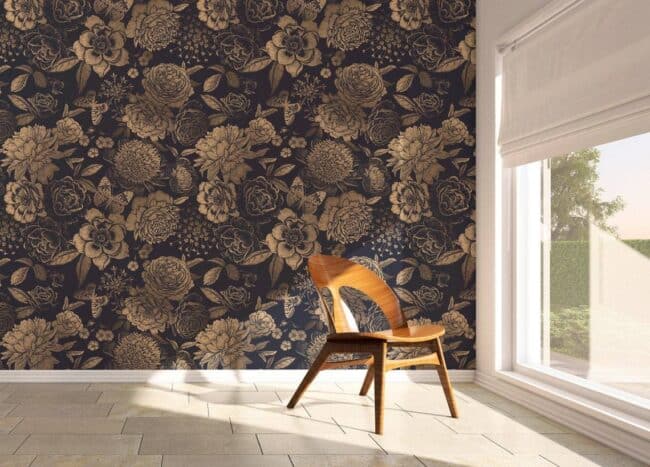 One thing about vintage colours and decors is that they will never run out of style. We always go back to vintage decor pieces, even when remodeling our old homes or modern homes.
This wallpaper features a vintage-like colour and design and is an excellent option for people who want to incorporate some vintage look to their room.
The wallpaper background comes in two colours to choose from – black with gold flowers and red with gold flowers, depending on your house wall designs and existing decor. You can install this mural in part of your living room or even your dining room.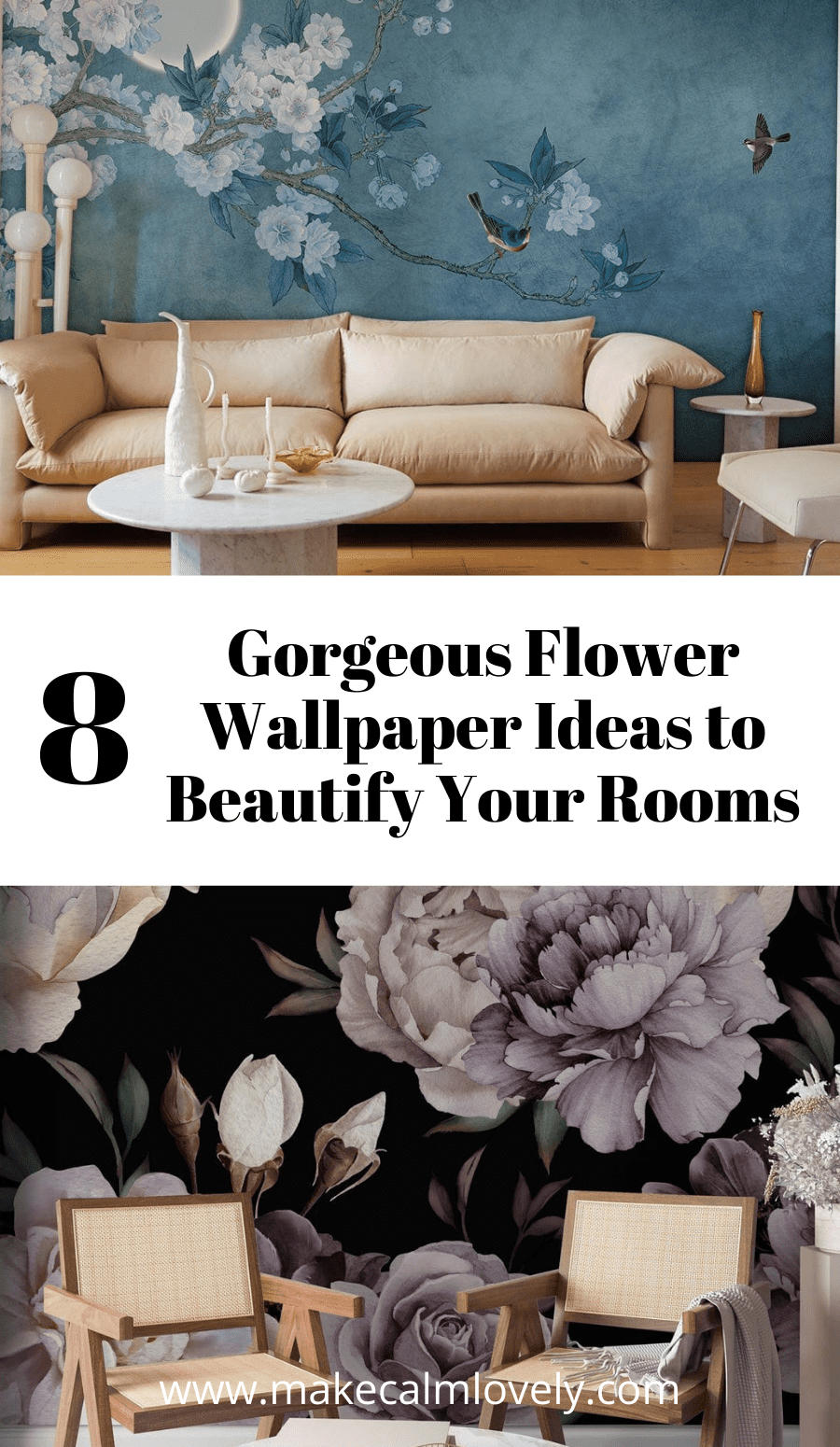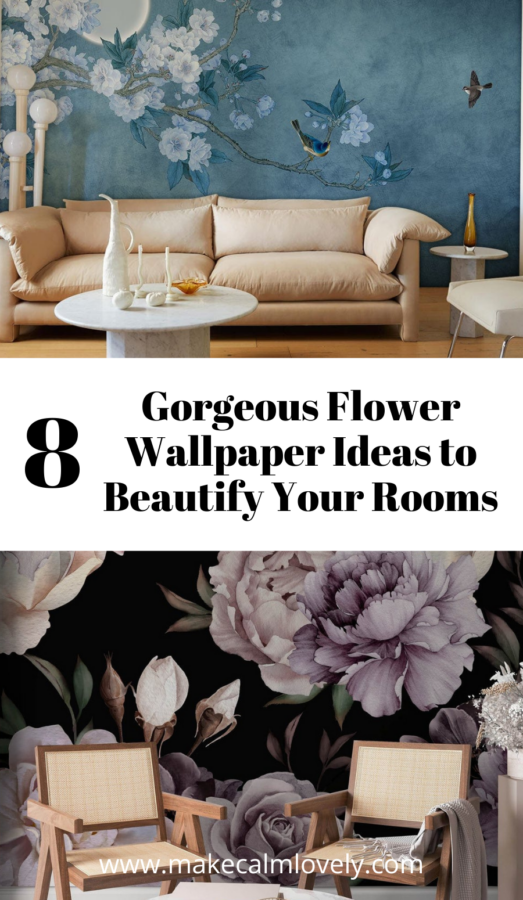 China Rose Flower Wallpaper Mural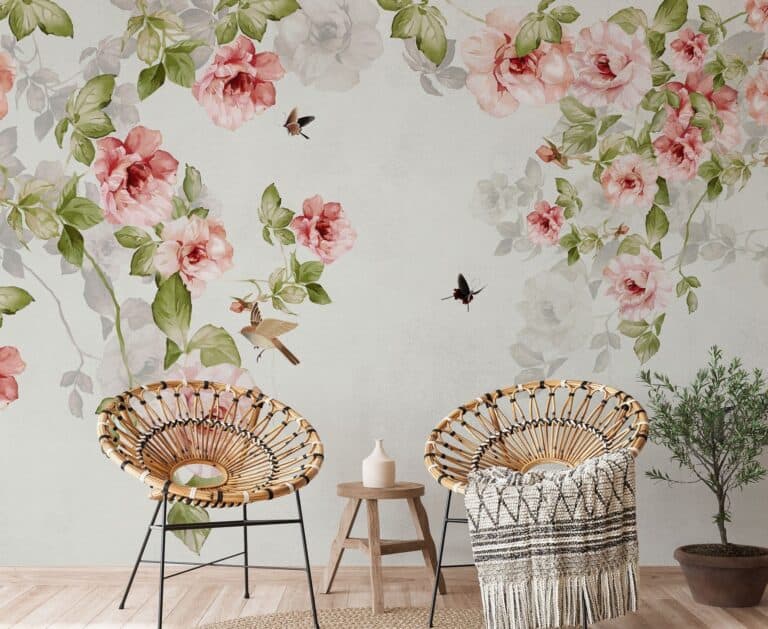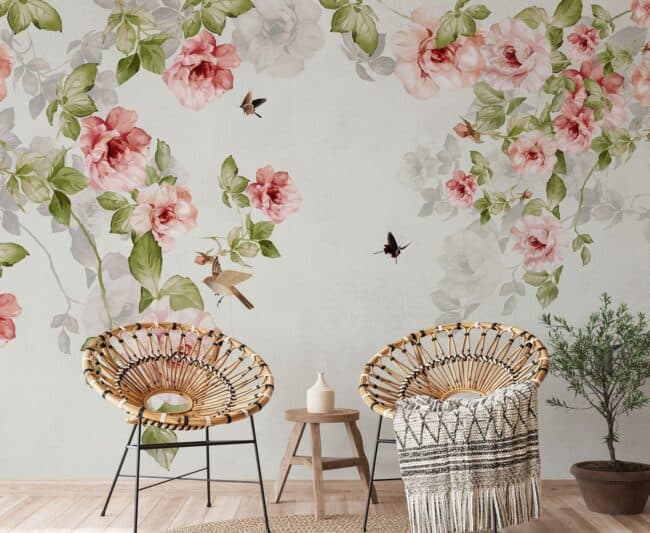 Get this wallpaper if you are looking for a vintage or contemporary look for your room. This flower wallpaper is made with beautiful pink China roses on green rose bushes and white paste that brings liveliness to the walls of the space you install the wallpaper on.
Also, considering that the colours and flowers are not too bright, this wallpaper is an idea for your bedroom or even living room areas.
Note that you can get the wallpaper in the form of peel-off, if you know you may change it in the future, and you can also get it in stick on for a more permanent finish. Also, you can use these wallpapers to cover your room's wall colors if you feel they contradict your taste or decor pieces.
Coral pink Flowers and vine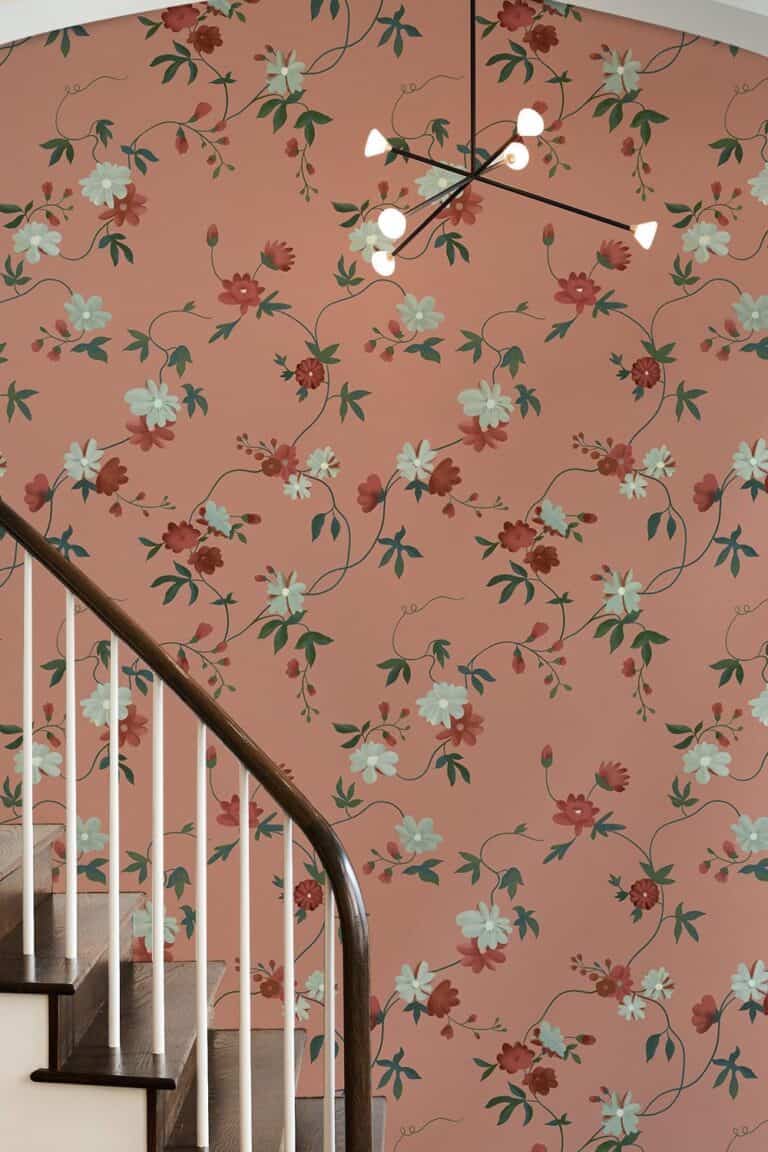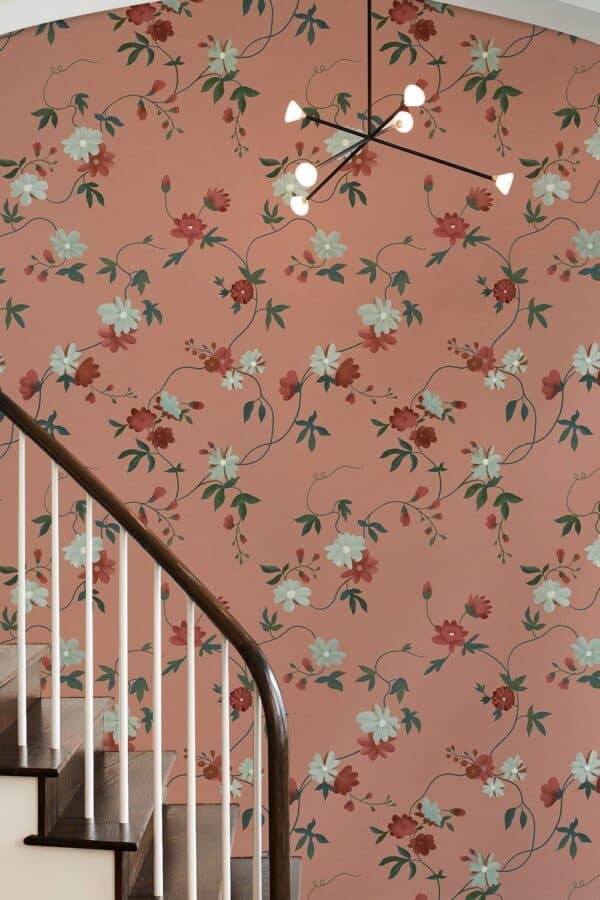 Not everyone is into large floral wallpaper, so this is where such choices like these coral pink and vine wallpaper murals come in. The design and the type of flowers on this wallpaper effortlessly add beautiful features to your walls. It is a wallpaper that you can get in four different colors, so you can easily blend it with most settings, colors and decor in your room.
The design of the wallpaper consists of plain coral colour in the background (it could be pink, green, yellow, or blue) and then features vines crawling across. This wallpaper is excellent for the bedroom, living room, hallway, or you can install it on the wall sides of hallway stairs.
Purple & Pink Dark Floral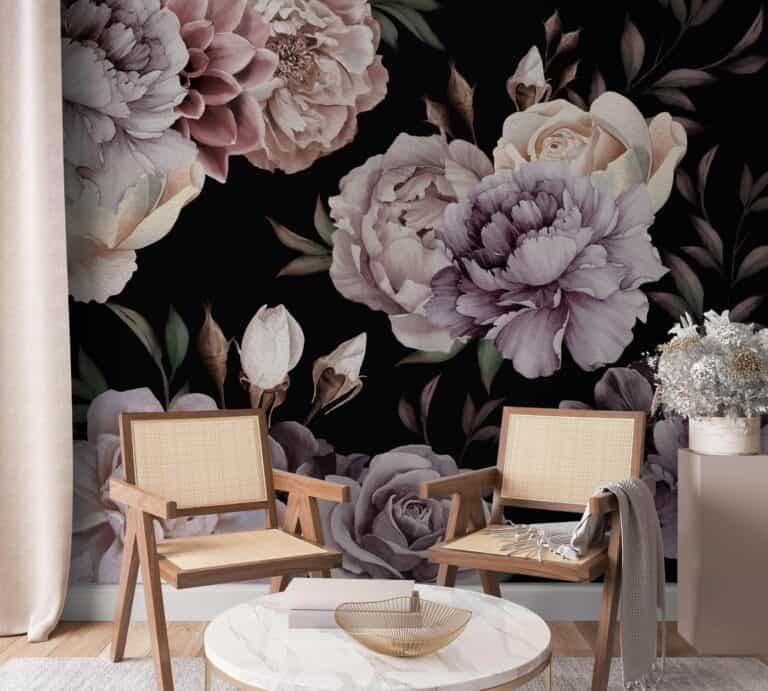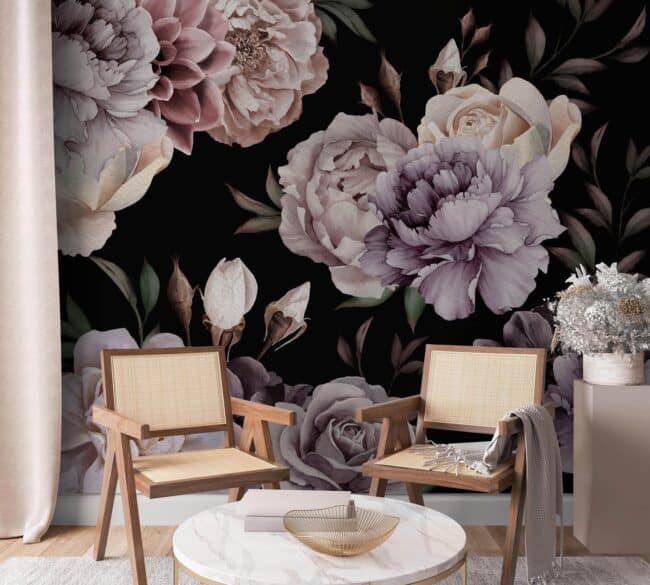 If you are looking for a way to transform your room, but then again, you don't want extra bright decors or paints, I believe Chloe's dark wallpaper mural could work for you well. The wallpaper features beautiful purple and pink flowers and a black background that neutralizes the flowers to give the entire mural a calm and dark look.
However, it is quite pretty and elegant when installed on the wall. The other thing I am sure you will love about this flower paper mural is that the colours blend well with different types and colours of furniture. Also, if you are looking for murals that give your home a vintage look, this is a to-go wallpaper mural.
Blue Ombre Flower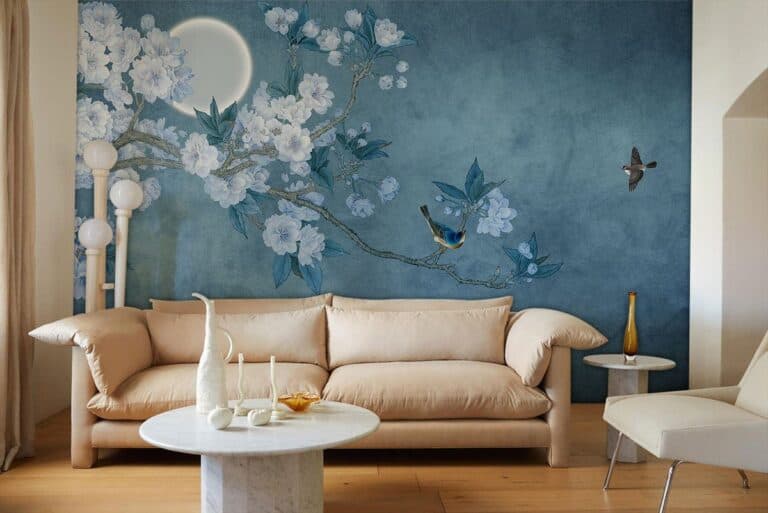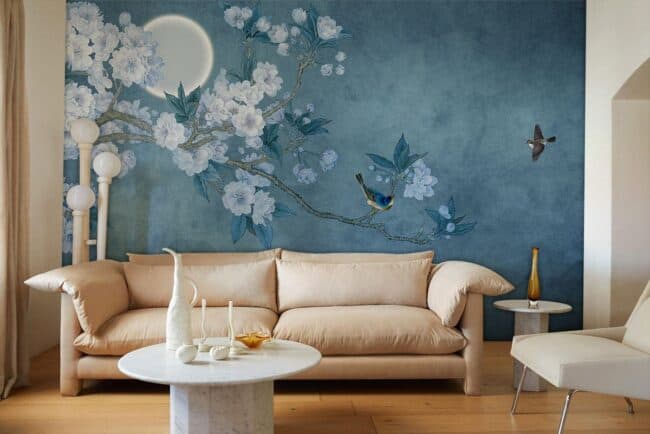 I would suggest this flower wallpaper for your bedroom areas. The blue ombre colours, plus the elegant blue flowers with leaves and a stem, give that calm feeling to allow you to have a restful night. This wallpaper also has a bird illustration, so it has a great vibe that I am sure you could use in the calmest room of your house.
This wallpaper also has a moon illustration; so, even if you are not sleeping, it gives you a feeling that you are staring at the sky at night. The combination of the ombre blue and the available illustrations makes the wallpaper effortlessly blend with modern and old homes.
Arialarge Dark Moody Floral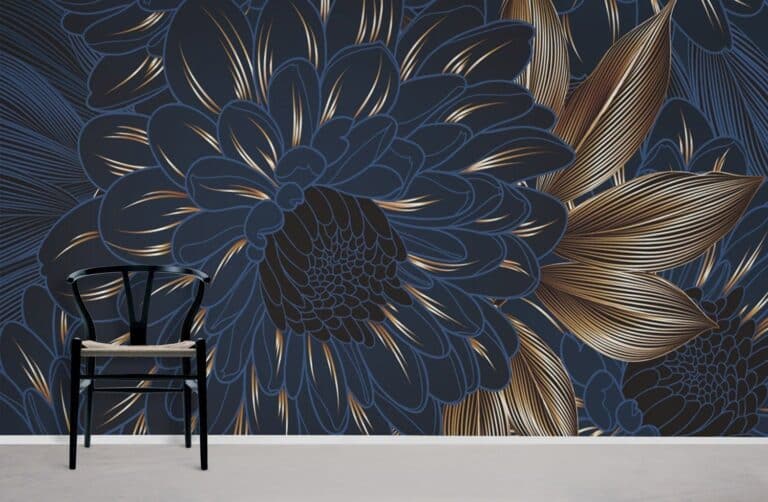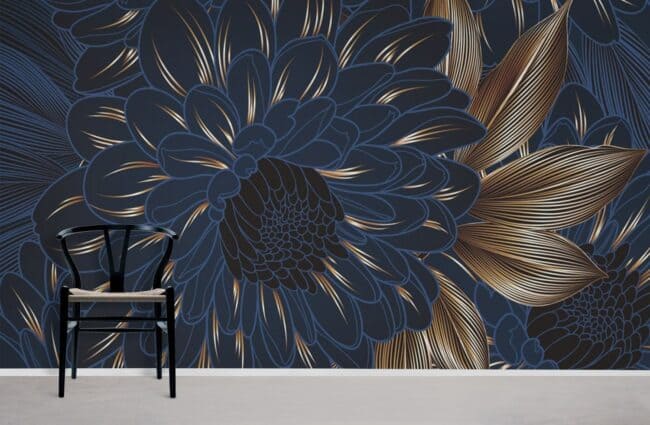 I believe wallpaper murals should not be only about glamourizing space. You need to choose pieces that add muse to the room's walls as well. This narrows down to the kind of flowers printed on the wallpaper.
This model of Ari's moody floral mural has a flower illusion that is captivating to the eyes. The background is dark, but the flower drawing is brought to life quite exceptionally.
The motifs of dark flowers in gold accents and blue colors bring liveliness to the dark background to create a fantastic mood in the room. The best place to install this wallpaper is your living room, so you can make an attractive illusion in the living room while chilling with your friends and family.
Conclusion
These are the top best flower wallpaper murals I believe would work for people looking to accentuate the wall decor of their rooms.
The choice of these wallpapers depend on what kind of decor you are aiming for, and the space you have for installation.
Some flower wallpaper murals discussed above are pretty bright so that they will make your dull room look lively, and others have a mild effect, an excellent option for calm rooms such as bedrooms or rooms that already have bright features in colors and decor.
Wallpaper can completely transform a room, and these beautiful floral designed papers fit with any style of home decor, any color scheme, and will go perfectly in any room of your home.