7 Crafts you can start today with no experience or skills needed!
If you want to start crafting or learn a new craft skill, don't be put off if you have no prior experience! These 7 crafts can be started today as an absolute beginner, and require no knowledge or skills to get started!
Make Calm Lovely is all about finding great crafts and DIY projects! I try to bring you ideas for crafts and DIY projects to make your life more interesting and lovelier!
You may really want to learn a new craft right now, either to keep you busy, make something in particular, or learn a new skill entirely.
So what is holding you back? Is it because you just don't know how to do that particular craft? You don't know what you will need for that craft, or how to even get started?
So here are 7 great crafts that you can literally start today – or right now – without having to have any experience beforehand.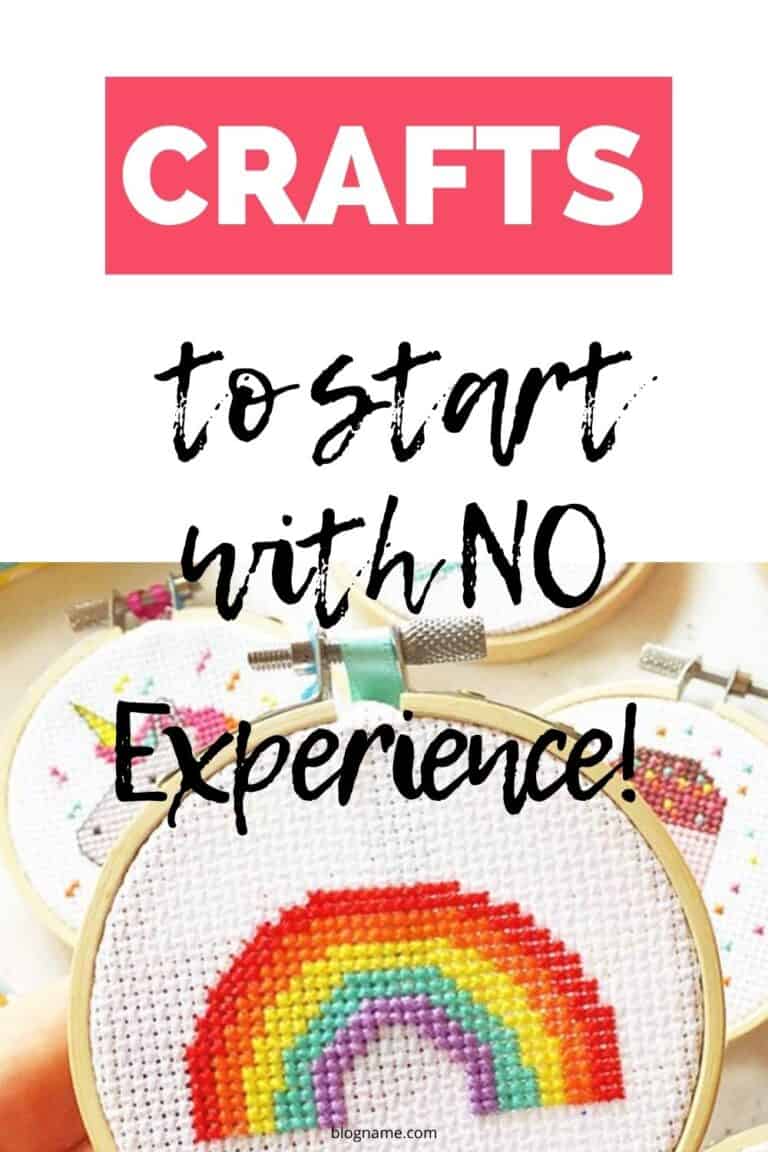 Why Crafting makes you Happier
Yes it is true. Crafting does make you happier as a person – and that is a proven fact. Numerous studies have been done on people undertaking many different crafts, including knitting and crochet and so much more.
All those studies showed that after doing crafts such as knitting, the participants felt far more happier than they had before they started doing that particular craft.
Hand crafting encourages your brain to release dopamine, which is a natural anti-depressant that our brain produces. The same thing that is produced when we exercise and get that 'exercise high.'
Crafting is actually encouraged by many therapists to help patients recover from post traumatic stress and so many other conditions affecting general health and wellbeing.
7 Crafts that need Absolutely no Prior Experience or Skills
Here are those 7 crafts that need absolutely no prior experience or skills to do. These are the crafts that you can even begin right now!
1.Candle Making
Candle making is a craft that you can do immediately with no prior experience needed!
All you need is wax and wicks, and a container to make the candle in – that is it!
You can really make some wonderful candles for your home, and for others as gifts too.
Here are some great candles to make, that are easy and fast: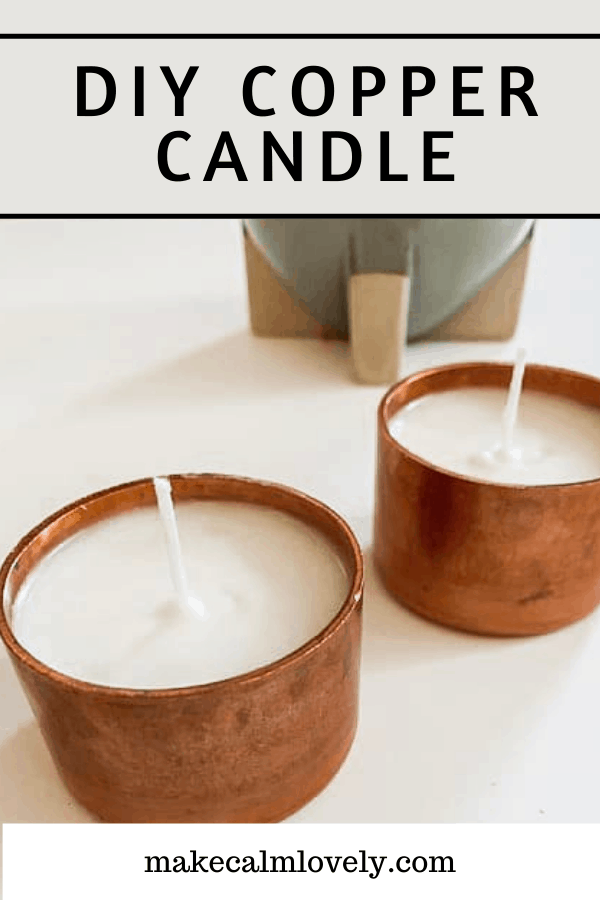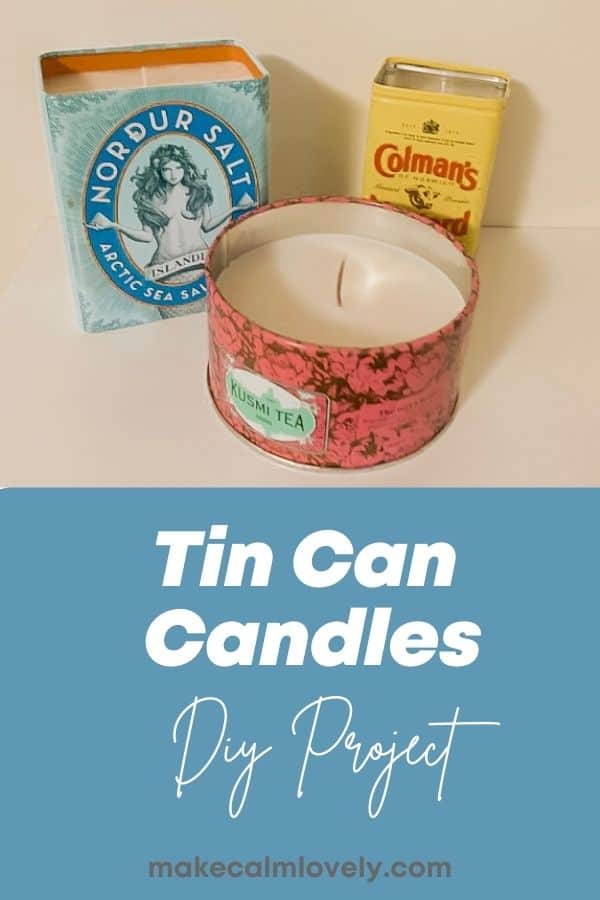 2. Painting By Numbers
Painting By Numbers is a great way to get into doing art and painting, without needing skills and experience beforehand.
Paining By Numbers is as simple as it sounds – you paint, guided by numbers.
There are numerous kits available from many sources for all kinds of pictures and paintings that you can paint.
To be a good artist you will need to be taught at least the basics of painting, color mastery and techniques. But painting by numbers allows you to create paintings immediately, that look skilled and well painted.
But your secret is that you just followed the guidelines of a paint by numbers kit!
Painting By Numbers can also give you beginning skills in painting too however. You will quickly learn through doing these paintings how shadow and shading works in paintings. You will see which colors complement each other and so much more.
The other great thing about painting by numbers is that you don't need any special equipment. All the equipment that you need to create art is provided within the kit – including the paints and the brushes too.
So if you want to start out on art, but feel you just don't have that background knowledge or experience, start with a Paint By Numbers kit today.
Related: Try Paint By Numbers for your Next Relaxing Hobby!
3. Knitting
Knitting looks really complicated – but it isn't at all.
How many times have you seen a beautiful blanket, or something to wear that you wanted to make for yourself, but just didn't feel that you could? Or something you wanted to make as a gift for others?
I was taught to knit as a child by my mother. Her mother taught her, and her mother before her etc. It was a family thing going back generations of women.
I am really glad now that I learned how to knit. But as a child I do recall the frustration and all the outbursts that I had in trying to learn it!
But it is because of that experience I had that I know what is required to learn to knit – patience. You don't need prior skill or experience in knitting – just patience to learn how to do it.
My overwhelming advice is to try it – and try again. Once you have tried a few times you will quickly know exactly how to do it. Take on simple beginner projects first, and gradually build up your skills.
There are SO MANY sources available for you to learn how to knit. Here for instance is a great You Tube video showing you the basics. There are so many instructional videos on You Tube and so many other places.
These knitted pot holders are a great beginner knitting project to try. These are so easy and incredibly fast to knit. You will quickly have made something useful and learned a new skill too!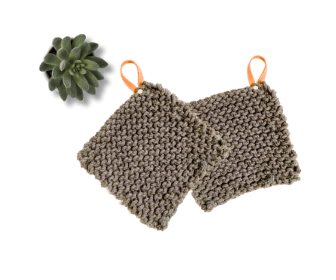 Check out these great beginner knitting patterns!
Related: 12 Beginner Knitting Patterns for Beautiful Easy Sweaters
Related: Easy Knit Chunky Throw Blanket that is great for Beginners
4.Crochet
Growing up I had a grandmother who could knit, and a grandmother who could crochet. They each did their thing – and kept to their thing! The knitter didn't like crochet, and the crocheter didn't like knitting!
But crochet is an easy craft and skill to learn. It really does look far more complicated than it is.
Just like knitting my overall recommendation for crochet is that you just need patience and to stick with it.
If you are already a knitter you may find crochet different at first, as you need to get used to using one hand rather than two. But it all quickly will fall into place and become easy to master.
There are numerous videos on how to crochet on YouTube and many other places on how to crochet, including this one.
Try these beginner patterns for crocheting some great items!
5. Cross Stitch
Cross stitch is a form of embroidery. It is called cross stitch because you make a cross shaped stitch in a piece of fabric. Each cross is usually in a different color and place on the fabric.
All those cross stitches eventually form a picture of something.
The best way to get started with Cross Stitch is to purchase a kit. Kits usually come with all the equipment that you need, and a guide to how to stitch that particular project.
As you get better at cross stitch you can do it on your own, counting stitches and following pictures.
You can start out with a simple small cross stitch kit such as this rainbow one.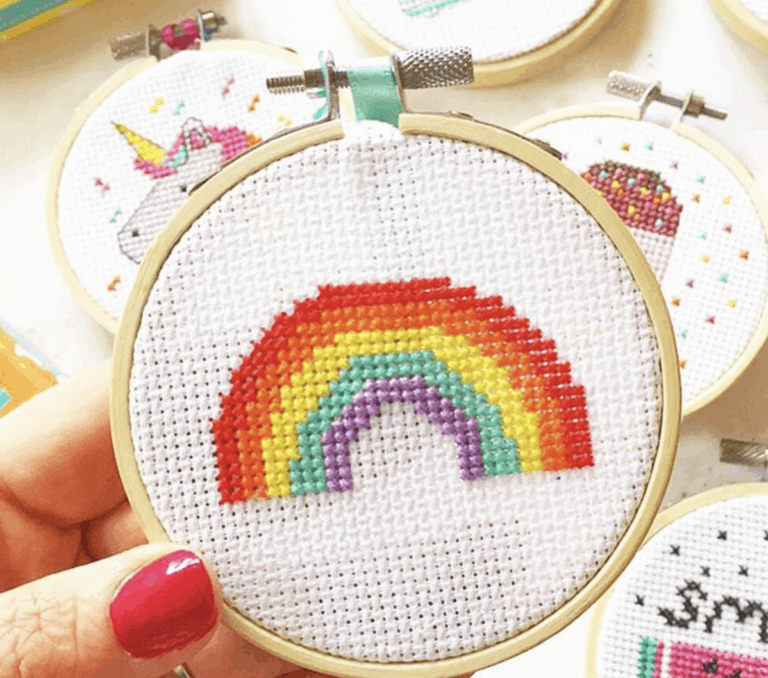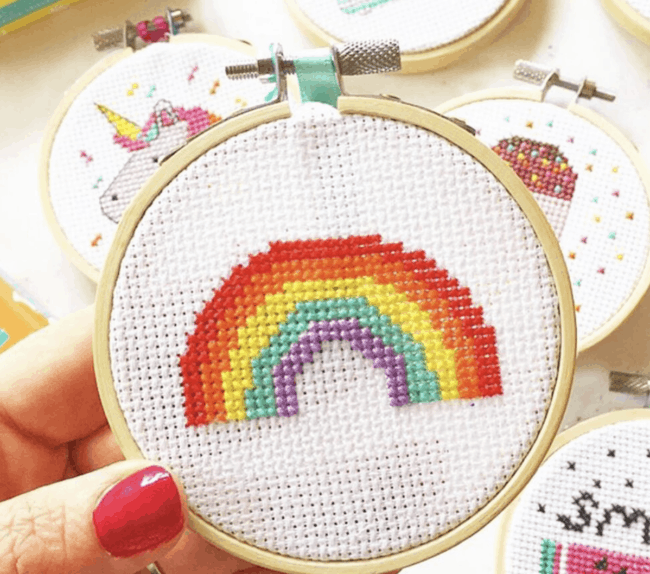 Amazon also carries numerous cross stitching kits in all kinds of designs.
6. Macrame
Macrame was huge in the 1970s, and went out of fashion after that time. But now macrame is huge again, and that boho style is very much on trend.
With macrame you just need to learn the basic macrame knots – and that it is. Once you master the different types of knots (which is extremely easy and fast to learn) you can make all kinds of great things.
This macrame ring wall hanging is a great beginner macrame project that you can start! It uses a very basic knot to start out with, and it will quickly get you in the flow of how macrame works.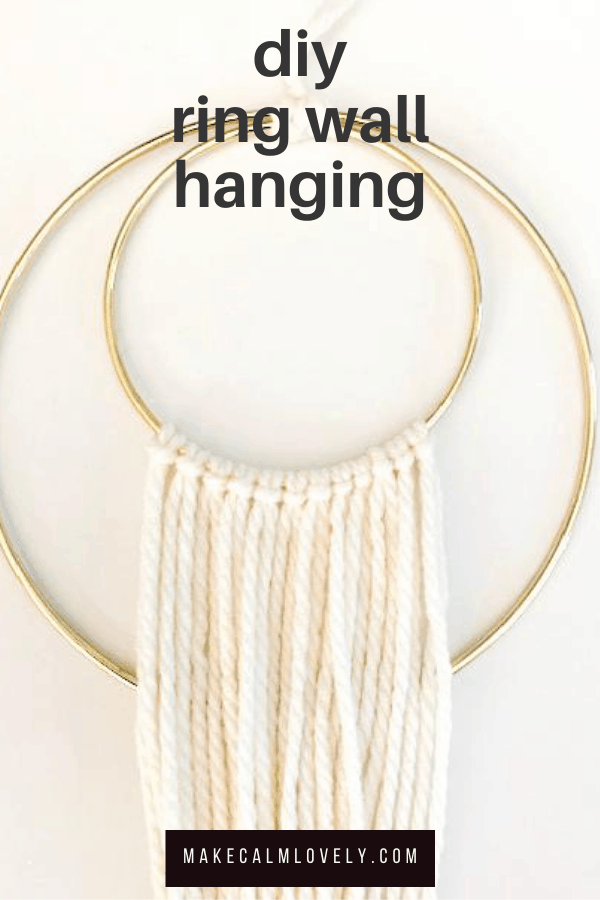 7. Sewing
Sewing is a great craft and skill to know. You can not only make some wonderful fabulous items for yourself and others, you can also fix things too!
You can sew by hand if you want to, but to make most things you will need a sewing machine (this is the sewing machine that I use).
It really isn't hard to learn how to sew. Even if you can't yet read a sewing pattern, there are so many tutorials online to help you step by step along the way.
Start out with some small DIY sewing projects, and gradually build your skills along the way.
A Monogram Sewing Machine will let you create some wonderful projects.
You don't need a lot of equipment when you first start sewing. As you start more in depth projects you can acquire more items. These are the things that you need in a beginner's sewing kit.
Try making these easy glasses cases for your eyeglasses or sunglasses as a first sewing project.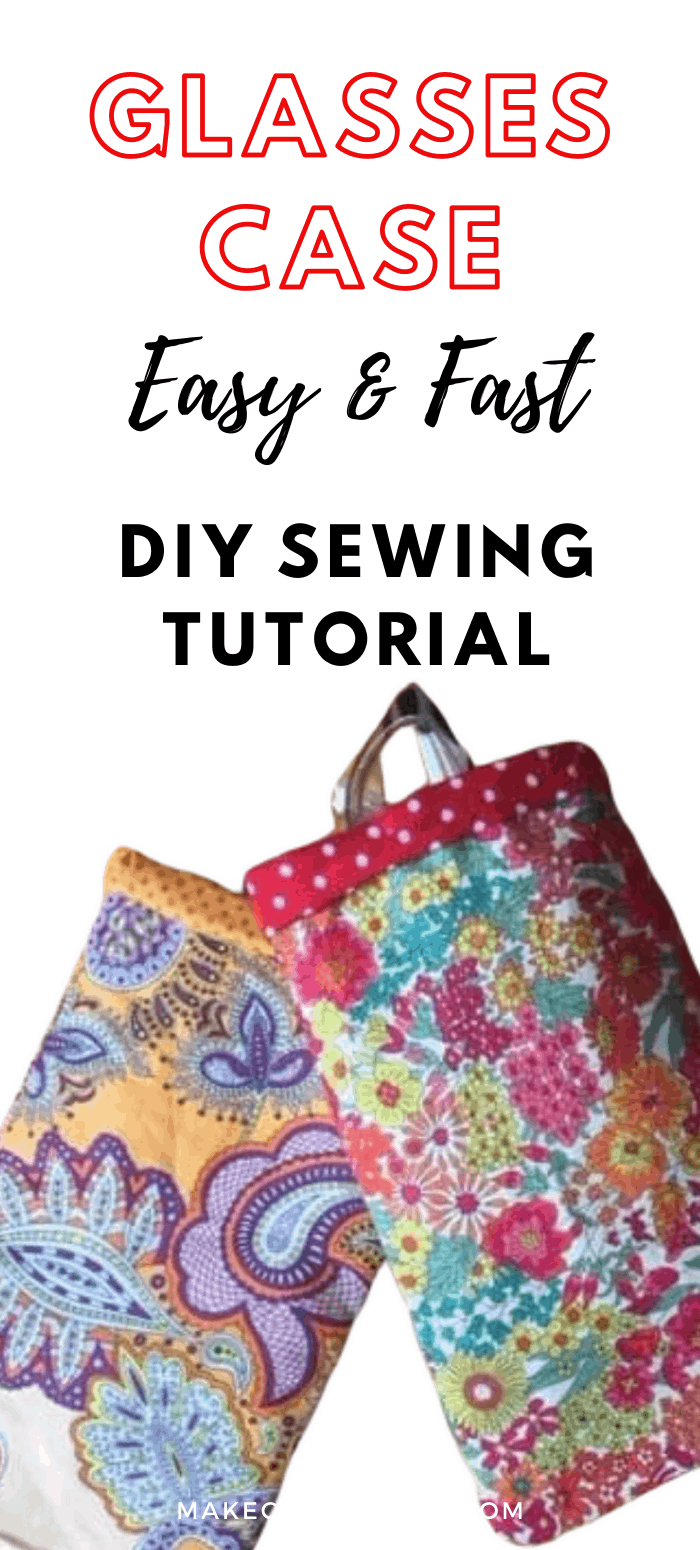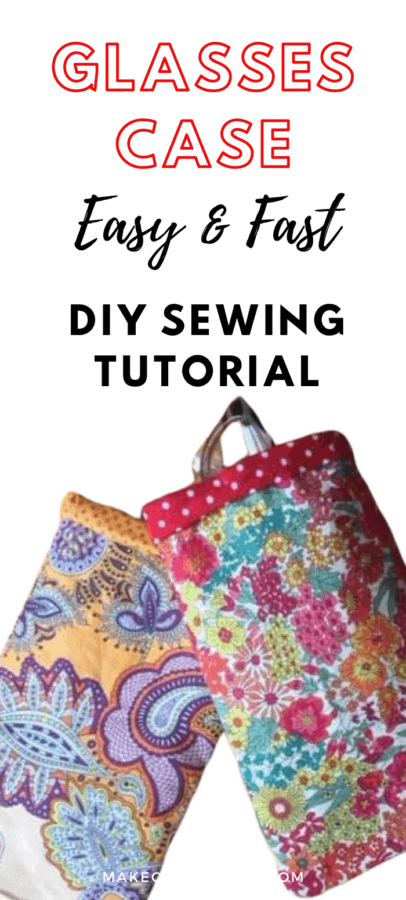 Don't put off starting a craft project or new hobby, just because you don't think you have the experience or knowledge!
There are so many crafts that are suitable for beginners and that take literally no time at all to learn.
These 7 craft ideas will get you started immediately making things for you, your home, or others, and you will quickly learn a new amazing skill!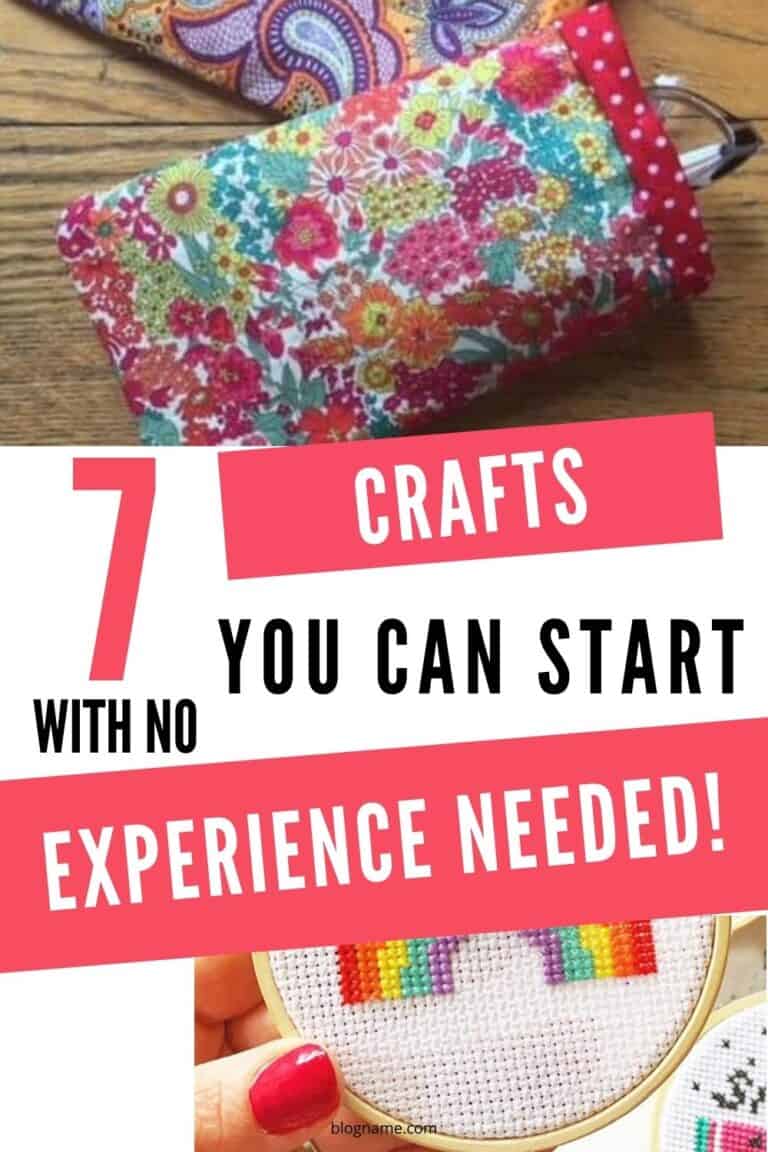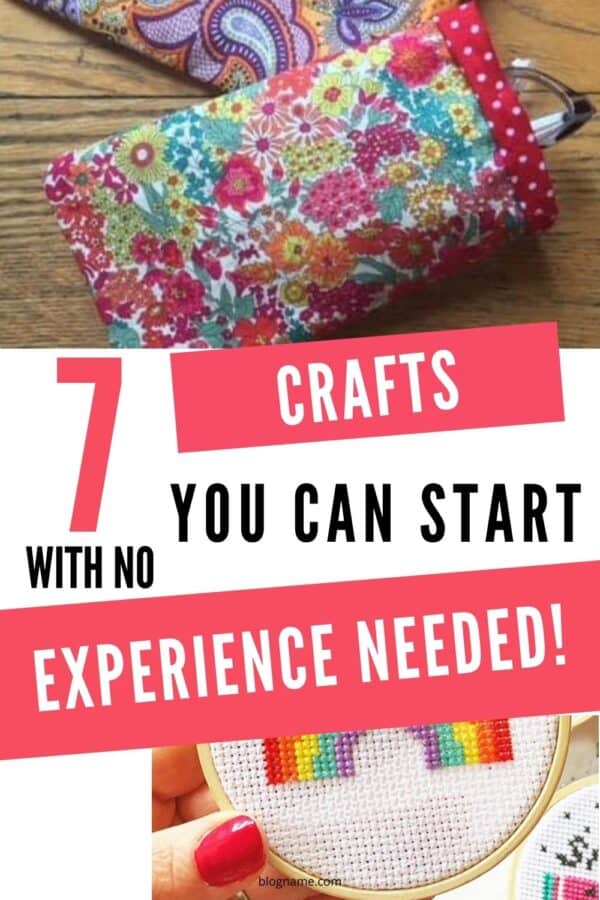 If you want to start crafting or learn a new craft skill, don't be put off if you have no prior experience! These 7 crafts can be started today as an absolute beginner, and require no knowledge or skills to get started!