4 Items to Include in a Winter Capsule Wardrobe
These four items are must haves for a winter capsule wardrobe. Invest in these pieces because they can be mixed and matched with other items, giving you many different outfit ideas
Building a winter wardrobe can be trickier than in other seasons because of the sheer bulk of clothing required.
We've all been there: coats, jackets, thermal underwear, turtlenecks, and all other warm clothing takes up a lot of space in our luggage or closet.
Not to mention, so many clothes can cause a lot of frustration because you have to rummage through so many things just to get to the item that you actually want.
What items should you buy? Which clothes are the most important? Do you need to buy hosiery that's thick enough to wear in cold weather? The list goes on and on.
A simple solution to fashion paralysis would be to create a winter capsule wardrobe.
A capsule wardrobe is a limited collection of clothing that can be interchanged with one another to maximize the number of outfits you can create and choose from.
Such wardrobes are thoroughly curated to only contain pieces that can be worn in a variety of ways.
While the idea is usually applied to daily wear, it's also possible to create capsule wardrobes that are appropriate for specific seasons.
The key to successfully building a winter capsule wardrobe is to have a reliable set of staples that you can layer.
Stylists recommend looking for winter clothing made of high-quality, durable fabrics. This may mean that you need to spend more initially, but consider each item as an investment that saves you money in the long run.
This is especially true for winter wear. This is the season when you need to pay close attention to fabrics, selecting premium cashmere or wool that you can use year after year.
To help you put together a winter capsule wardrobe, consider including the following essentials as recommended by stylists:
The Classic Cashmere Crewneck
More than an alliteration, the cashmere crewneck is a classic winter wardrobe piece. Cashmere may be more expensive than other fabrics, but its unique insulating properties and gorgeous feel justify its premium price.
Cashmere is taken from the soft fleecy under-layer of the cashmere goat. Not only are the fibers extremely fine (adding to their soft feel), but cashmere is also a high-loft fiber.
This means that there are inherent thermal air pockets within the fibers, which provide better insulation. High-loft fibers are so highly regarded that manufacturers have even attempted to recreate non-woven blends for handicrafts and home textiles.
Cashmere crewnecks are also highly versatile, coming in a variety of hues. Whether you want to wear a bright green crewneck for days when you're feeling bold or just want a neutral-colored one for going out to the park, you're sure to find a cashmere crewneck that suits your style.
Want to look more chic? Some stylists say that oversized fits lead to a more luxurious look, so consider sizing up one entire size when buying your next garment, or buy one that was deliberately made to have an oversized fit.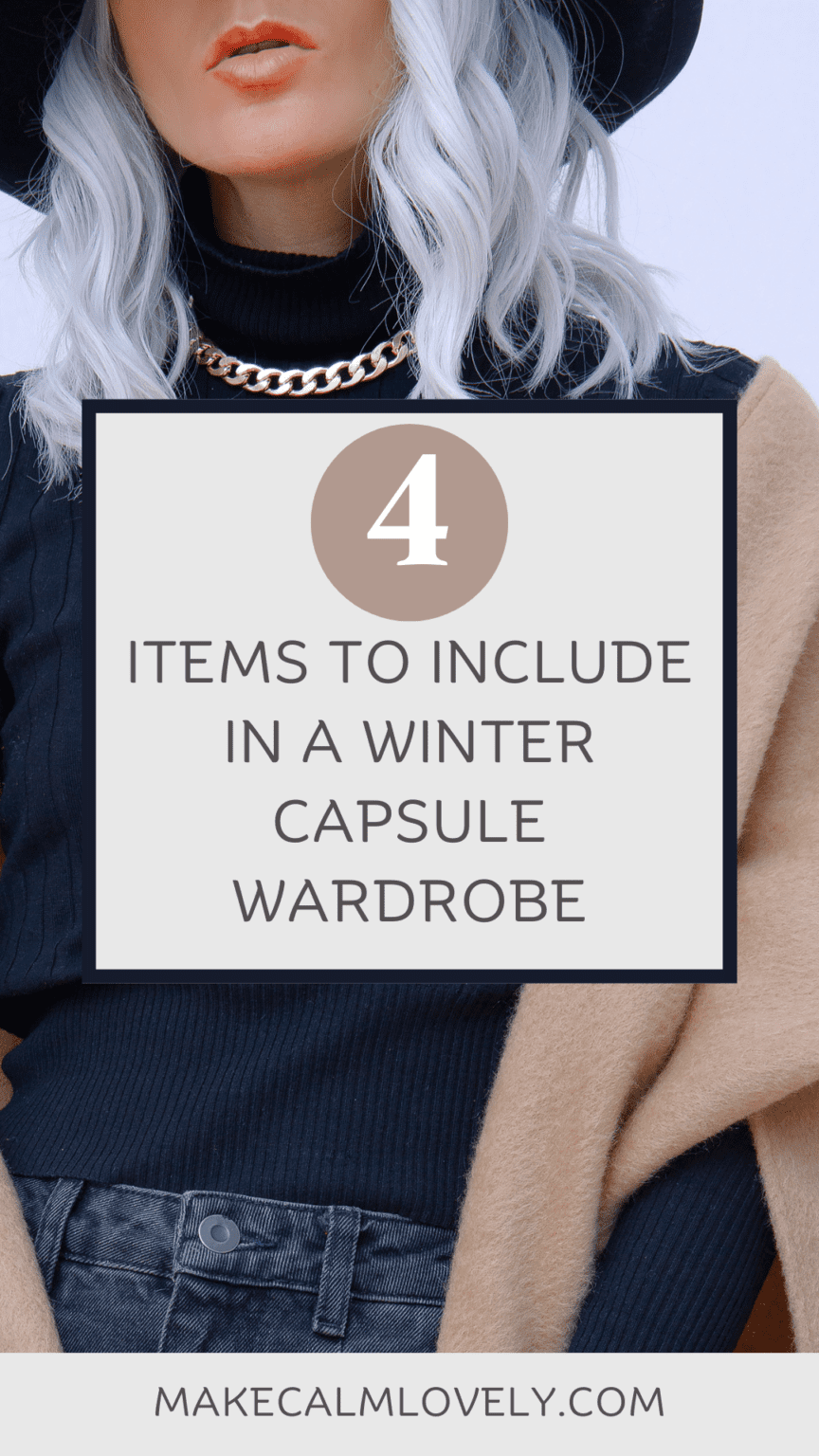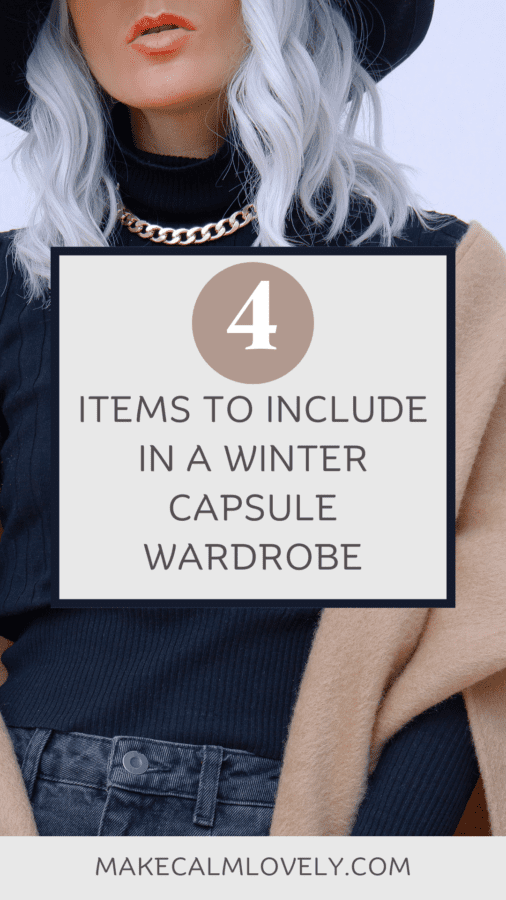 Wool Trousers
Wool trousers are a great staple for winter capsule collections because they suit pretty much most body types.
In fact, some stylists say that wool pants work for all body shapes, as they can look flattering on people with a wider hip area or even those with a more protruding backside.
Wool tends to flow straight and doesn't bunch up in corners, which may give the illusion of a leaner lower area.
Furthermore, wool provides excellent temperature regulation. Similar to cashmere, wool is made of thin fibers with tiny air pockets that trap body heat.
Despite that, wool also wicks away moisture, absorbing around 30 percent of its actual weight in sweat before your skin feels wet. This means that you can use your wool trousers all year round as they can not only keep you warm when it's cold, but also keep you cool in hot weather.
Need additional warmth? You can wear your wool trousers over a pair of thick, high-quality hosiery.
A Puffer Coat
If you had to choose just one type of winter coat, the puffer coat should be first on your list. Constructed from goose or duck feathers and down, puffer jackets are excellent at keeping you warm while still being lightweight and easy to pack.
It is an essential item to include in a winter capsule wardrobe because of its versatility. These days, you can find different types of puffer coats in a multitude of colors and lengths.
Some people prefer full-length puffer jackets for added protection against the elements, while others prefer a waist-length option for more mobility.
You can also find puffer vests that offer enough warmth and protection when it's just a little cold outside, though these tend to be less favorable in colder weather conditions.
Keep in mind that puffer coats require specific care, including using a down-specific detergent. Make sure that you read the washing care label on your jackets before placing them in the wash.
A Turtleneck
Rounding out this list is the ever-classic and dependable turtleneck. Though turtlenecks can be worn at any time of the year, they are particularly useful in winter.
Not only can these clothing items keep you warm, but they are also incredibly stylish and can be layered in different ways. Stylists say that, at minimum, a well-fitted turtleneck can transform into three different outfit ideas.
While there are nine different types of turtlenecks to choose from, you should consider investing in the classic look for your winter capsule wardrobe.
Generally, classic turtlenecks fit snugly around the body and feature a thin, slim neckline. True to their name, classic turtlenecks are simple and do not display any other design on the front or back.
Women with larger chests should invest in high-quality underwear, such as a seamless bra, to prevent the bunching of their turtlenecks and allow the item to flow more smoothly along the body.
This simple technique makes the outfit look more elegant, as people will focus on the overall look rather than protruding underwear.
These four items are must-haves for any good winter capsule wardrobe. Of course, you may add other items along the way, depending on your needs.
That said, you should invest in these pieces first because they can be mixed and matched with other items, giving you several outfit ideas all at once.
Remember that the core idea behind any capsule wardrobe is to focus on timeless, interchangeable pieces rather than trendy but hard-to-pair items.
Check out these related posts:
How to Color Coordinate your Closet
4 Tips for a Stylish & Professional Work Wardrobe
These four items are must haves for a winter capsule wardrobe. Invest in these pieces because they can be mixed and matched with other items, giving you many different outfit ideas