Get ready for Christmas early, with these 20 great tips
and suggestions
Does it feel like every year Christmas just suddenly appears? Before you know it you are hurtling fast into the holiday season, and you are just not prepared!
But there are simple ways that you can get prepared, and be well ahead of the game, for when Christmas does actually roll around. That means you need to start your planning early.
Planning early for Christmas can be done gradually in the months leading up to Christmas. You could start during the summer, or you could start as soon as the kids go back to school.
You could even start at the beginning of the year in the New Year sales!
Here are 20 proven ways to get ready for Christmas early, and be ahead of the game!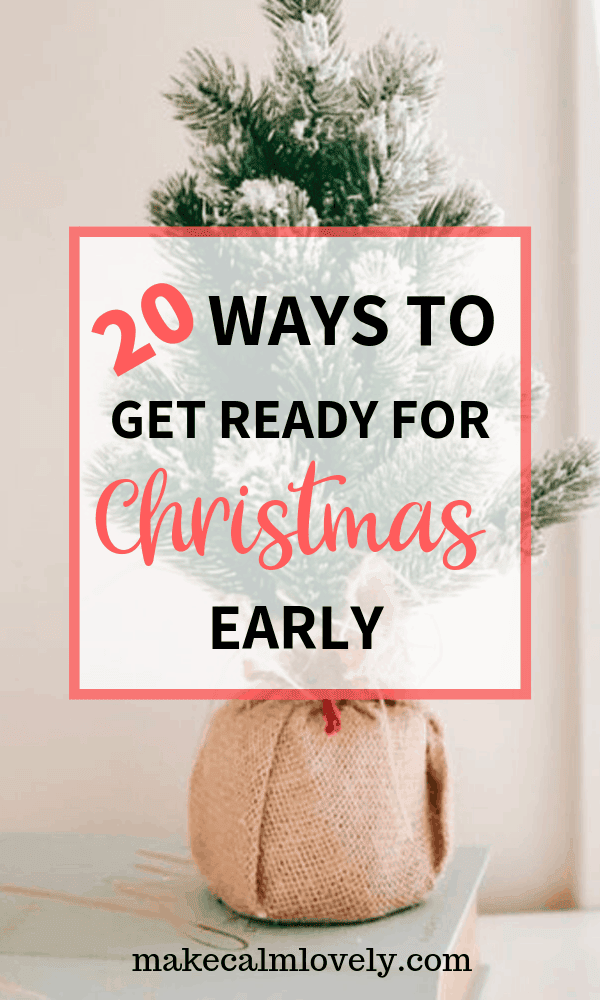 This post contains affiliate links. You can view my disclosures here.
1.Start Saving Money for Christmas
Christmas is expensive. Especially if you have kids. If you start saving early you won't notice that big expense quite so much. You can gradually save up month by month.
You can put aside money each month into a holiday account or bank account. If you put aside around $50 per month for instance, starting in January, you would easily have $500 by October, to start buying gifts and to cover those Christmas related expenses.
If you find it hard to save, setting up a direct debit from your bank account each month into a special holiday fund, will mean you don't actually see the money first. That way it feels less difficult and painful to do.
2. Create a Budget for Christmas
One of the reasons Christmas gets so expensive is because many of us just buy whatever we see when we are shopping for gifts.
We can also get a little out of control buying groceries and food during the holidays.
But Creating, and sticking to, a budget is the only way to stay in control of your holiday spending.
Make a list of all the things that you spend money on at Christmas. Your list will probably include some or all of the following:
Christmas Tree
Decorations
Food & groceries
Clothing (for social events)
Gifts for family, friends & co-workers
Stocking Stuffer gifts

Come up with a budget, and stick to it, and control your holiday spending. A budget also lets you see how much money you need to save or put aside.
Get my Free Printable Holiday Planner here! Which includes a Christmas Budget planning sheet!
3. Create a Gift List
Make a list of everyone that you buy gifts for each year.
You could also put a budget amount next to each person's name. For instance, for your Grandmother you want to budget $50 for a gift, for your kids you will spend $200 each.
Go through your gift list and try to think of gift ideas for that person. For instance your Dad loves gardening, so you can think of some gardening related gifts for him. Your daughter loves American Girl, so you know you will be buying gifts related to that for her.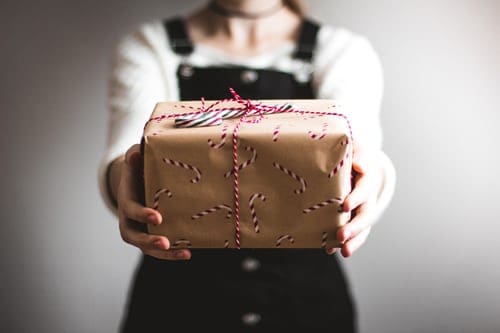 4. Make Your Wish List
Don't forget you at Christmas time! There are things that you would like to receive for Christmas!
Family and Friends always appreciate a list of things you would like, as it makes their task of getting you a gift so much easier. How many people ask you what you want for Christmas?!
You could write several different wish lists also, depending on who you will give them to. Write out a separate wish list for your partner, a separate wish list for your mom etc.
5. Create a Christmas Card List
A Christmas Card list is a great way to stay on track with who you need to buy cards for, and to track when you have sent them.
A Christmas Card list can also be used again and again, year after year.
It contains the names of card recipients, and also their addresses. This makes easier work for you every Christmas when it is time to send out cards. Get the free Printable Holiday Planner here, which includes a Christmas Card List!
Check out these Beautiful Ideas for Displaying your Christmas Cards!
6. Make a List of what you Want to do This Christmas
Every year there are things I want to do at Christmas, but Christmas comes so quickly I just never have time to fit everything in that I really do want to do.
By making a list of all the things you would love to do, and want to do, this Christmas season, you can then try to find time to fit them all in.
So write out that list. It may involve seeing the Nutcracker ballet at a local theatre, hosting a holiday party, or going to see Santa with the kids.
Once you have written down everything that you want to do, you can then schedule those things on your calendar, buy tickets, or start planning.
My Free Printable Christmas Planner has calendars for November and December, so you can start planning all you need and want to do for the holidays right away!
7. Start Planning your Holiday Party Early
There is a lot that goes into planning and hosting a Holiday party. You need to make a guest list, make or buy invites, send invites, track RSVPs, plan food and drink, cook, and much more!
Therefore the earlier you start planning for it, the easier it will be.
Come up with a budget before you start your planning, so you will stay on track financially. It may help spread the cost if you start buying things ahead of time, such as bottles of drink and more.
Check out Pinterest for food and drink ideas, and plan the food and drink you will serve.
Start making out your guest list as early as possible. You can always add to it as you go along.
8. Plan out all your Holiday Meals
Plan out all the holiday meals that you will be responsible for making during the holiday season. That probably will include a special meal for Christmas Day, as well as Christmas Eve, and more.
You may also host special meals throughout the Christmas time period for friends and colleagues.
Start planning out what meals you will be hosting and cooking, and when. Start planning menus and making up shopping lists for those meals. Set up a budget to stick to.
You can get a head start on planning your holiday meals way before the Christmas season looms. This will be especially great if you want to do something a little different this year. It will give you plenty of time to research and plan.
This is one of the best ways to get ready for Christmas early.
Check out the best Christmas cook books from Amazon!
9. Plan What you will Bake this Christmas
Baking is a great part of the Christmas season. Christmas to me means the smell of freshly baked mince pies and sugar cookies!
You can start early on your Christmas baking, and start the process well ahead of time. Read about Christmas baking that you can prep ahead of time!
Plan out all your baking, for your family, for gifts you will give to friends, family and neighbors, and for any parties or social events that you will host.
10. Think about your Christmas Past
Think about all your past Christmases. What were the most special things about those times? What did you most enjoy doing? What did you least enjoy doing?
Are there things you did that you want to do again? Things you didn't do that you wish you had done?
You can use those past experiences to plan your ideal Christmas this time around.
11. Make all Your Travel Arrangements early
Booking flights and other modes of transport well ahead of time is not only cheaper, it also means there will be more availability.
If you know when you plan on travelling during the holidays, start planning and booking early.
Not only will you potentially save money, you can also get that part of your To Do list done early and out of the way.
12. Start Buying your Gift Wrapping Supplies Early
I would even go as far as to say you can start this almost a year before Christmas! Gift wrap is one of the things that goes on sale straight after Christmas. Stores always have an abundance of gift wrap left, and they will usually reduce it in the new year sales.
Try to buy your gift wrap early in the sales, or buy it gradually throughout the year. That way you don't have a huge expense of purchasing gift wrap around the holidays.
Check out these easy gift wrapping options, using brown Kraft paper!
13. Start Your Christmas Shopping Early
Even if you have a budget, starting to shop early will not only save you time around the holidays, it also means you can spread out the cost.
You can start buying presents as soon as you have an idea of you are buying for each person on your list. Once again, this is one of the best ways to get ready for Christmas early.
With Christmas shopping well out of the way ahead of time, you may actually be able to enjoy the holiday season more, without worrying about all that shopping that you have to do!
14. Start /your Cooking and Baking
Once you have a plan of what you are going to be cooking and baking for Christmas, it may be possible to start preparing much of it ahead of time.
Many foods can be prepared and frozen, in some cases for many weeks ahead of when they will be served.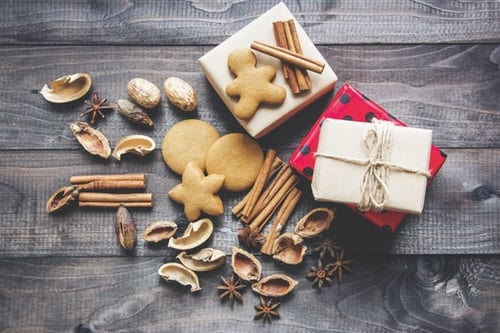 15. Get your Christmas Cards Ready
If you send a special Christmas card every year start getting it ready as soon as possible.
Whenever we go on vacation in the summer to the beach, we always see complete families taking their special Christmas photo on the beach! I always make a mental note to do it one year, but I have never got round to it.
So if you normally send out a photo Christmas card of your kids, your family, or your pets, work on either taking your photo early, or get your photograph selected as early as possible.
Leaving this to the last minute may also cost you far more in rush shipping charges (as I learned the hard way).
If you plan on making your own Christmas cards, start sourcing ideas and supplies as early as possible. It takes time to make those cards!
16. Start Making DIY Christmas Gifts
If you plan on making your own gifts for family and friends, start planning early.
Check out Pinterest for DIY gift ideas. Start buying any supplies needed, and start making your gifts.
A DIY gift can be so special to give to somebody. It shows that you have been prepared to put in the time and effort to actually hand make something for them.
Here are some great food gift ideas to make for friends & family this Christmas!
17. Start Buying, or Making, Your Christmas Decorations
Christmas decorations can be expensive to buy. You may also want to have something unique in your home that you just can't buy.
Check out Pinterest for ideas on how to make certain Christmas decorations. Start buying supplies and start making your decorations.
Making decorations is a really fun family activity to get everyone involved in.
Check out these Fun & Easy Christmas Decorations to DIY!
See these unique & amazing alternatives to Christmas trees!
Also check out these great ideas to DIY your own Christmas Advent Calendar!
18. Start Earning Cash and Cash Back for Christmas
There are many different apps and programs available that give you cash back when you shop. That means you can have extra cash available for Christmas, all just for shopping when you normally would!
These apps include Ibotta that gives you cash back for what you spend normally in stores and online.
Rakuten gives you cash back when you shop in stores or online, that you can use for Christmas gifts and needs also.
19. Plan your Holiday Entertainment
Christmas is all about those (sometimes tacky) movies and other entertainment also.
Scour through Christmas TV guides and see when your favorite Christmas movies are going to be shown, then set your DVR. Or look through Netflix and plan your holiday viewing.
You may want to go to the theatre or the ballet, see a movie at movie theatres, or do something else cultural that is Christmas related.
Having a list of things, and knowing what you want to do, means that you might just be able to find the time to do them!
20. Make a Christmas Play List
Are there special songs that just mean Christmas to you, that conjure up special memories?
For me it is always Last Christmas by Wham, and Fairytale of New York by the Pogues and Kirsty McColl! I also love a lot of the old classics such as White Christmas.
Radio stations, especially the Christmas themed ones, play Christmas music non-stop. But if you want to make sure that you always have your favorite songs playing, when you want to hear them, make a Christmas playlist.
If you have Apple Music you can set up playlists, or come up with your own playlists with whatever technology you prefer to use. Or start buying your Christmas DVDs.
Doing this as soon as possible ahead of time means that you will have that music ready from the start of the Christmas season through to the end (and by then you may be ready for it to end!)
I really hope that these 20 suggestions for how to get an early start on planning for Christmas will help you out and inspire you to start planning!
If you only adopt just one of these suggestions, you will already be a little ahead of the game.
Start planning now, and get ready for Christmas early, and have the best Christmas season ever this year!