If you have an existing laundry room that needs some TLC, or you are creating a laundry room from scratch, you need ideas and inspiration! Here are 15 ideas for great laundry rooms!
You may not use your laundry room quite as much as the other rooms in your home. Your guests and visitors to your home may not see your laundry room ever, or at all!
But even though that may be the case, a lovely stylish and organized laundry room will be a room you want to be in, and one that will work well and it's best for you.
Create a stylish and beautiful laundry room or area in your home. Make doing your laundry more of a pleasant task! After all, you do spend a fair amount of time in there!
Here are 15 ideas for different styles and ways to style and decorate your laundry room. Get inspired now!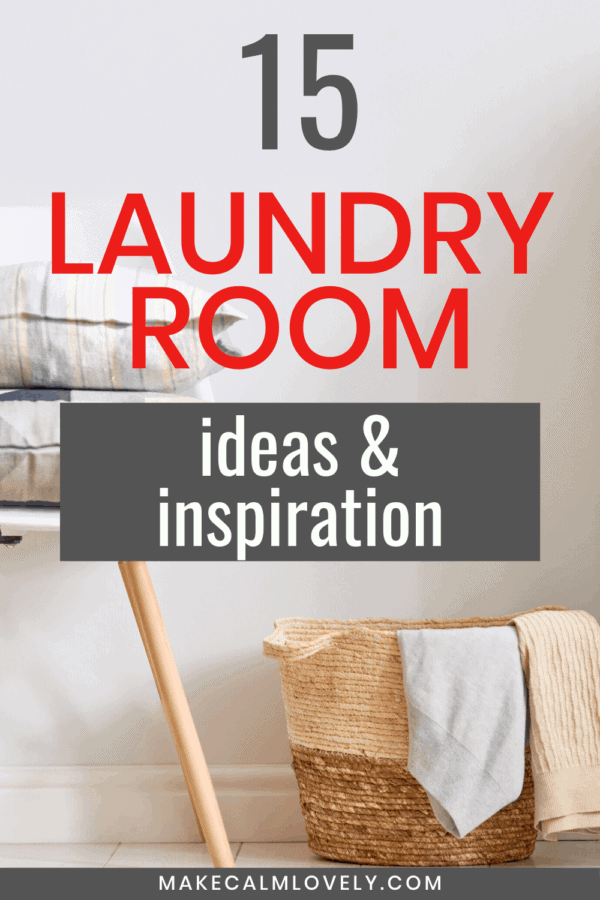 Create a Beautiful Area
Create a beautiful space that you will love to be in, including a beautiful and stylish seating area. This laundry room is so beautiful it could be living room! See it here.
Beautiful and Functional
This laundry room is as beautiful as it is functional. With lots of storage areas, and plenty of space to do all you need to do. The sliding storage carts are a really great addition.
Create More Space
This is a great laundry room makeover, that actually creates more space. By stacking the washer and dryer on top of each other, that extra space it creates can then be used to get really organized in the laundry room! See the post here.
Photo Credit: Jessica Welling interiors
Make use of all Space Available
This laundry room is making use of all available space. It has a great rack for hanging clothes and handy shelves, fitted into a small space. This is a great way to use up an otherwise empty wall. See it here.
A Rustic Look Laundry Room
Create a beautiful rustic looking laundry room, with this idea for a faux brick wall in your laundry room. Adding wooden shelves also adds to the rustic look.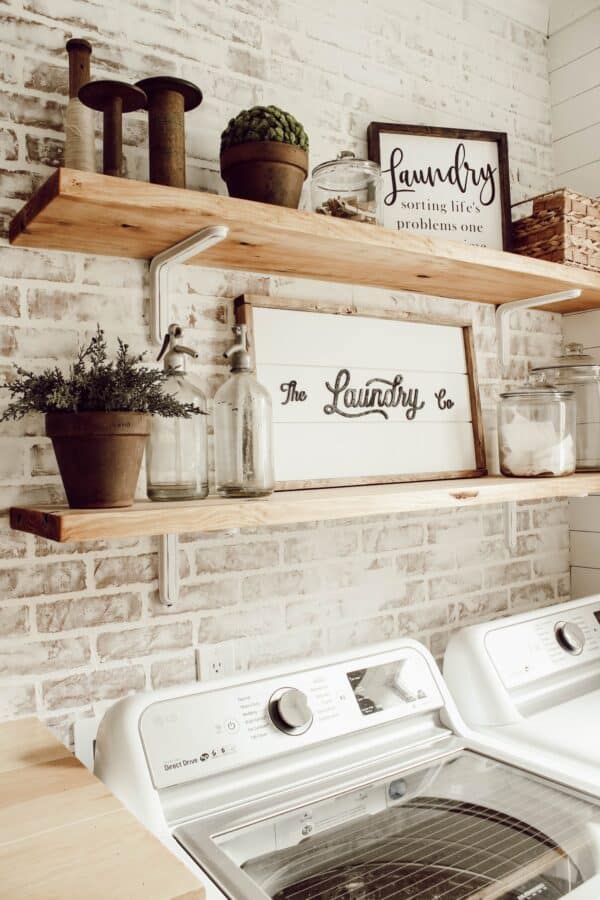 Tuck the Washing Machine out of the Way
If you would rather not have your washing machine take center stage wherever it is, create a cabinet to hide it away. Just like this one here. Hide it away in the cabinet when it is not in use: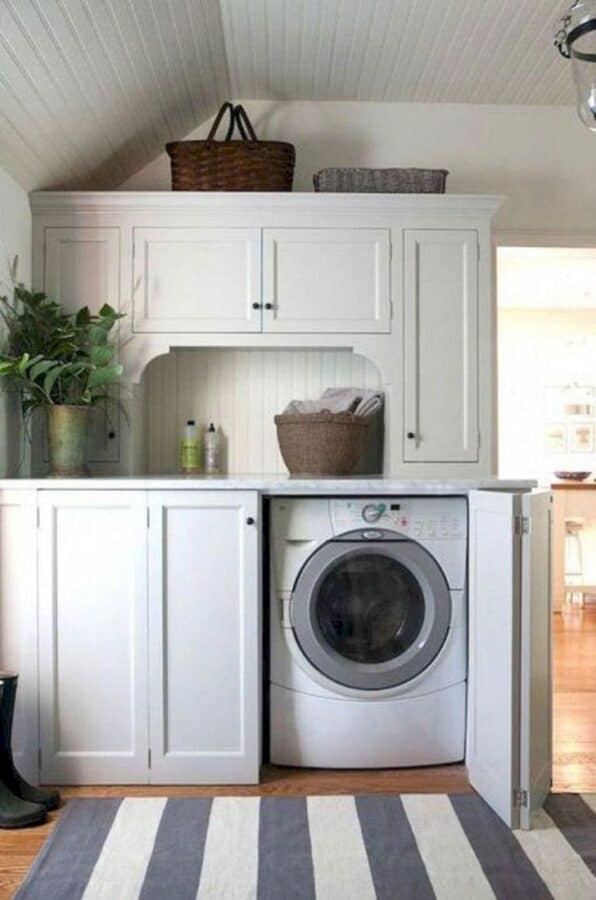 A Minimal Laundry Area
With a small space, you can still have an efficient working laundry area. This laundry area is full of storage, yet is so minimal too. If you prefer a more minimal look, this is for you:
Scandi Style Laundry Room
This is a beautiful scandi-style laundry room. Full of style and function too. The two different colored woods also add a unique style.
Farmhouse Style Laundry Room
If you love Farmhouse style and modern farmhouse, how about taking it into your laundry room? Have a farmhouse style table as the workhorse in the room!
Make Room for Your Pets too!
If your dog or cat need a special place to take themselves off to, the laundry room is one of the best places! It is quiet and out of the way. What's more it is warm when those machines are running! So take care of your 4 legged friend also with this laundry room renovation!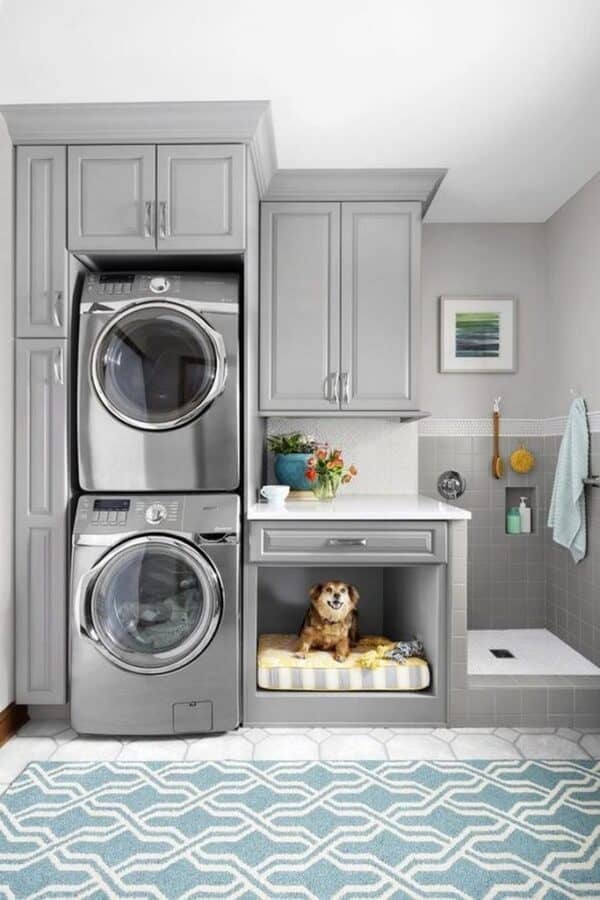 A Dog Shower Area
While we are on the subject of pets, how about installing a dog shower area in your laundry room! You could also use it to clean off things in your home too of course. See the post here.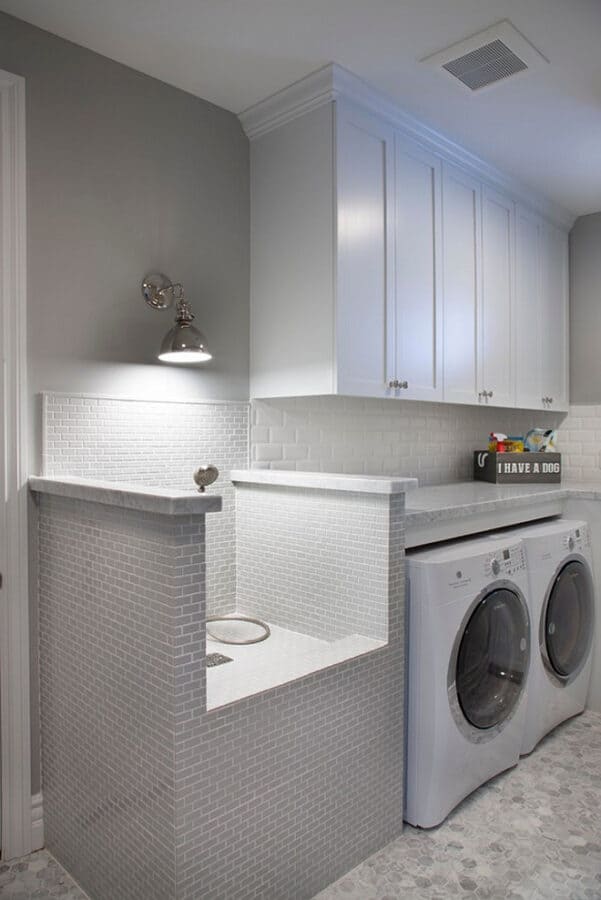 Make it Look Like Something Else
This laundry room area doesn't even look like a laundry room! If you want your laundry area to do its job, but be discreet, this is exactly the look you need:
Go for a Softer Look
For a softer look to your laundry room, you might want to consider hanging curtains. You can add all kinds of colors, and create a different look with curtains: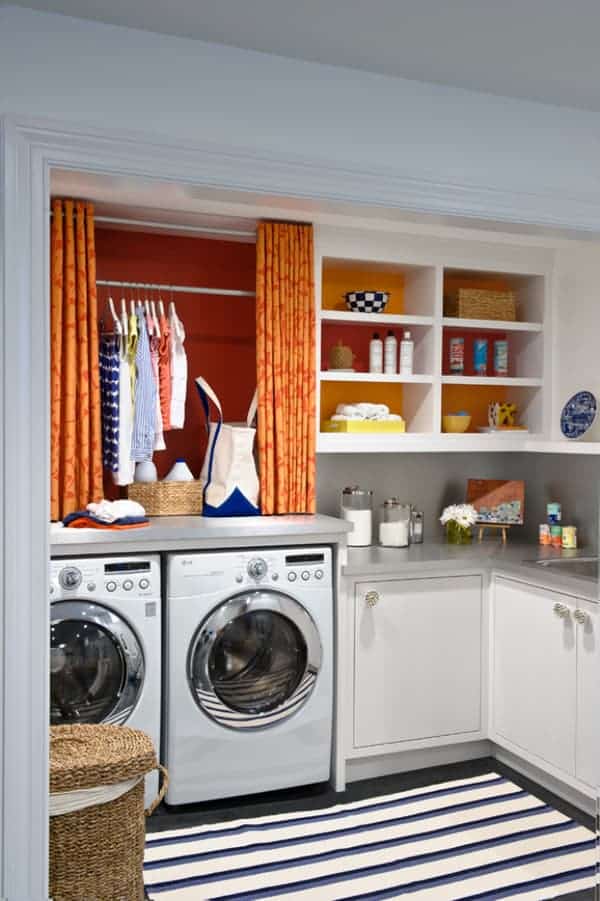 Go For Color!
A pop of color in your laundry room will always make it a fun place to be in. Get creative with color and really make your laundry room stand out. See the post here.
Small Laundry Area with Shelves
If you only have a small laundry area, you need to utilize all that space as well as possible. This laundry room renovation is utilizing so much space with these shelves. It also looks really great!
Make your laundry room a lovely room to be in, and work its best for you too! These 15 ideas for laundry rooms that are both stylish and functional will help you re-design or create your own laundry room!