If you want a unique & Unusual Advent Calendar this Christmas,
Amazon has some great ones!
The traditional advent calendars that involve just opening a window to see a picture, or getting a small chocolate, are fun and a great way to count down the days during the Christmas holiday season.
But sometimes you just need something a little more unique and unusual to help you count down the days, and make it a bit more fun.
Here are 14 great unique choices for unusual advent calendars that are available from Amazon.
Buy these for yourself and your family, or give them as gifts to friends and loved ones.
If you would love a great DIY project to make your own advent calendar this Christmas, see these great ideas here!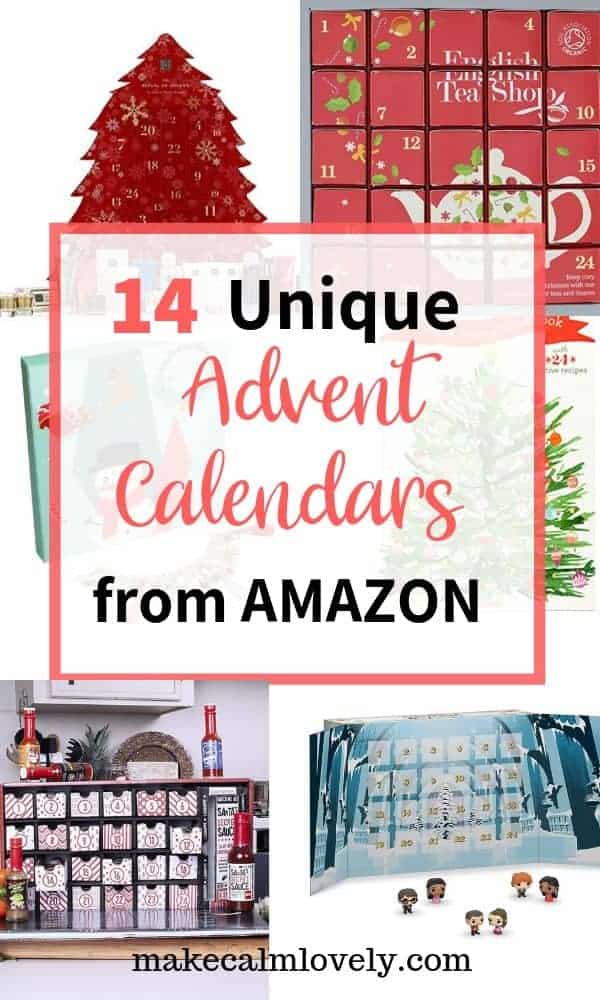 This post contains affiliate links. You can view my disclosures here.
The Ritual of Advent
This advent calendar gives you a calming gift each day, to help you slow down and relax.
The gifts each day include hand cream, candles and more. With the stress and whirlwind of the holiday season, this is a great calming way to get through the season! See the details and buy here.
Squishy Stress Relief Toys
Every day you get a different squishy stress relief toy in this calendar!
They are fun toys for kids, they make great stress relief toys, and they are also good fidget toys. See the details here.
Charm Bracelet
With this charm bracelet calendar, you open a window a day for a different charm.
At the end of the time period, and as an additional Christmas present, you get to make up your own perfect charm bracelet! See the details here
For the Barbie Fans!
For all those who love Barbie dolls! This calendar features a different Barbie doll accessory each day behind each window.
Little girls will love this! Get details here.
Harry Potter Pocket Pops
This calendar contains a different Harry Potter Pocket pop fun character each day!
You can quickly have a fun collection of Harry Potter characters. See the details and buy here.
Frozen Disney Olaf's Adventure
Every day you get a new surprise figure behind a window. You can then create Olaf's adventure from Frozen! See the details here.
Create your own Christmas Decorations
This calendar lets you create your own Christmas decorations. Open a window each day for a different Christmas decoration that you can create and display.
This calendar gives you and your kids a fun DIY project each day for the holiday season, and gives you lots of different decorations to display! See the full details here.
Norman Rockwell Pop Up Calendar
This is one for the art lovers out there! A more traditional advent calendar, but with an art twist.
Open each day to reveal a different pop up Norman Rockwell illustration. You can see it here.
Playmobil Advent Calendar
Playmobil advent calendars are great for kids. Not only is the advent calendar a fun set up that they can make day by day. Each day has a different piece of Playmobil available in the calendar.
You can also keep the pieces long after Christmas is over, to add to a Playmobil toy collection. See more information and buy it here.
Cookie Advent Cook Book
A unique twist on a traditional advent calendar. This book carries you through from December 1st all through the month, with a different Christmas cookie recipe per day! Get the details here!
Tea Bag Advent Calendar
This is a great calendar for the tea lover! There is one tea bag per day for the Christmas season!
If you love tea, or have a friend who does, this would be a great gift to spread out the Christmas cheer. Get the full details right here.
Relax and Pamper
This relax and pamper advent calendar contains a different pampering gift each day!
Open a window to reveal a bath fizz, soap, bath salts and more. A fun relaxing way to countdown to Christmas Day! See the details here.
Hot Sauce Calendar
This calendar gives you a different bottle of hot sauce every day! Open the drawer to reveal a different bottle each day.
This would be a great gift for someone who loves hot sauce, or loves to cook! Or just a fun way for you to sample all kinds of hot sauces every day! Get the details and buy here.
Bic Advent Calendar
With this unique calendar, every day you get a different surprise in the form of a pen, felt tip marker, coloring pencil, crayon, sticker and more.
Use them for your planner, journal or art project. Get the details here.
All these advent calendars are fun and unique, and they are easily available straight from Amazon.
Put some fun into your holiday season this year, with a unique and unusual advent calendar!
You may also love these Christmas related posts:
Christmas baubles and ornaments to DIY
If you want a unique & Unusual Advent Calendar this Christmas,
Amazon has some great ones!