Tools that can help you get organized don't have to cost money, or be hard to use. There are numerous apps available for your smartphone to help you with organization for you, your family, and your home.
You need all the help you can get when you are busy and life is overwhelming. Your smartphone is a great way of keeping organized, with lots of incredible apps available to help you in your busy life. What's more there are lots of free apps out there, all designed for both iphones and androids.
Here are 12 great and absolutely free apps that will get you organized in no time!
This post contains affiliate links. You can read my complete disclosures here.
Cozi Family Organizer
Best for: Use by the entire family
How it can get you organized: Keeps all your events and activities in one place, lets you keep and share a grocery list in real time, stores recipes, helps you plan meals, and shop for ingredients. Has a Family Calendar that lets you set reminders, and send agenda emails. Lets you create shared To Do lists, store recipes, and plan dinners. Syncs across all devices, and with all family members devices. To learn more about Cozi and to sign up (it's free!) click here.
DeCluttr
Best for: Selling your stuff
How it can get you organized: Enter the item you want to sell on the app, and it will then give you a quote for the best price (you can also scan a barcode). You can sell your CDs, DVDs, games, Blu Ray and Tech straight to DeCluttr for a good price. Clear out your clutter and then get money for it using this free app!
For more information on DeCluttr and to sign up for the app click here.
Trello
Best for: Organizing projects, To Do lists and more
How it can get you organized: Trello consists of a series of boards, and within those boards are lists. You use the app electronically just like you would use bulletin boards and sticky notes. You can assign due dates, color codes, set reminders, and work with teams. For more information on Trello click here.
Pocket
Best for: Storing articles and papers electronically
How it can get you organized: You just don't have time to read everything you want to, but nobody wants to keep piles of newspaper and magazine articles, or have to bookmark everything online. Pocket is a great little free app that lets you quickly and easily copy any online article that you want to keep to read later into its database. Then when you have time you can pull up your articles and read! For more information on Pocket click here.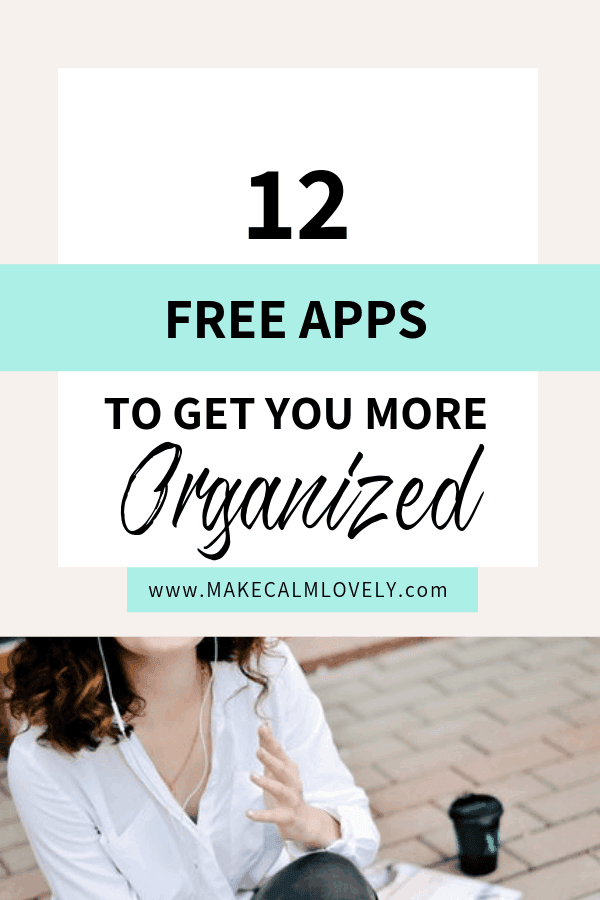 Unroll.me
Best for: Managing your email inbox
How it can get you organized: If your email inbox is just out of control, and you don't have the time, or the stamina, to go through every single email individually to unsubscribe, use this app. Unroll.me lets you unsubscribe from whatever you need and want to, with just one click. For more information on Unroll.me click here.
TripIt
Best for: Managing your entire trips and travel
How it can get you organized: Travelling can be very stressful, with all the tickets, itineraries and things you need to keep and refer to. TripIt makes it easy to keep your travel organized. You can name your trips, import all of your travel data, and even set reminders. For more information on TripIt click here.
Remember the Milk
Best for: Organizing your tasks with ToDo lists
How it can get you organized: Keeps a running To Do list for you, so wherever you are you know exactly what you need to do. You can also send yourself reminders by text, email or instant messenger. It also integrates with your Google calendar. Get more information on Remember the Milk here.
Big Oven
Best for: Huge database of recipes, helps you meal plan.
How it can get you organized: This app has a huge database of over 200,000 recipes. You can drag and drop those recipes onto a calendar, to plan your meals out weekly. If you upgrade the app it can also plan out your grocery list for you. For more information on Big Oven click here.
LastPass
Best for: Keeping all your passwords in one place.
How it can get you organized: This app securely stores all your usernames and passwords, so you don't have to try to remember them, or keep doing the lost my password feature in all your sites and apps. Get more information on LastPass here.
Habitica
Best for: Habit building and productivity
How it can get you organized: Habitica is a free habit-building and productivity app that treats your real life like a game. It features in-game rewards and punishments to motivate you, and a strong social network to inspire you. You can get more information on Habitica here.
Smarter Time
Best for: Knowing where your time is spent, so you can plan your day better
How it can get you organized: This app lets you keep a complete timeline of your days, so you can see where you are spending your time completely – the good and the bad. There are complete analytics that show you exactly where you spent your time and what you were doing, so you can get insights into your productivity, habits, sleeping habits and more. .Get more information on SmarterTime here
24Me
Best for: Overall organization, like having a personal assistant.
How it can get you organized: 24Me puts everything that is related to your schedule in one place: Calendar, To Do list, notes, and your personal accounts. You can add tasks by voice without opening the app and more. Get more information on 24Me here.
Get organized easily and for free with great apps for your smartphone!
You may also be interested in these posts on organization and organizing your life:
Use Trello to organize your busy life
An easy way to keep your entire family organized