If you want to re-use old wrapping paper and gift wrap, to be more ecological and budget-minded, here are some great ideas for turning that otherwise discarded wrapping into something really quite wonderful!
Every year during the holiday season we zealously rip off wrapping paper, only to have it be thrown away and then eventually make its way to a landfill. Not only is wrapping paper pretty expensive, it also is terrible for all those trees that were used to make it.
If you care about the environment, and/or your wallet during the holidays, here are ideas to turn that gift wrapping into so many other useful things!
There are some pretty amazing and unique ideas in here! So save that wrapping paper today!
By the way, I came across this wonderful book that really can up your gift wrapping game, that I wanted to share with you before we go any further with this! (This post contains affiliate links You can view my disclosures here).
Turn Gift Wrap into Gift Bags
Photo: A Beautiful Mess
Leftover and used pieces of wrapping paper, of the same design, can easily be taped and joined together to make beautiful gift bags.
This is a great way to use up those old pieces of used wrapping paper, without having to throw them away.
These gift bags are also great for 'wrapping' items that are otherwise quite difficult to wrap. See the complete tutorial here.
Make Pretty Paper Envelopes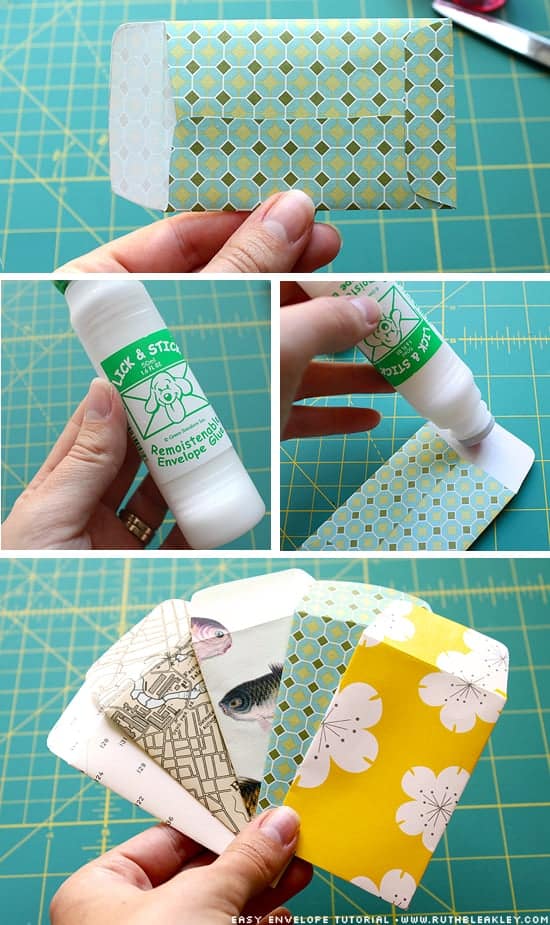 Photo: Ruth Bleakley
These tiny envelopes are a great way to give gift cards to others. They also make pretty envelopes to use for just about anything at all (you could even use them for this DIY Christmas Advent Calendar!).
This is a great way to use up those smaller pieces of leftover wrapping paper, that can't ever realistically be re-used easily. See the tutorial right here.
Use it to Pack Away your Christmas Ornaments
Every year when you pack away your ornaments after Christmas, you need to store them securely.
Leftover wrapping paper is one of the best ways to securely store those ornaments. Just wrap each ornament carefully in discarded wrapping paper. You can also place balls of wrapping paper into the storage container that you use to store them, to create extra padding to keep those ornaments safe.
Line Drawers with Wrapping Paper
Leftover and used gift wrapping paper makes excellent paper to line drawers with.
Why would you want to line your dresser drawers? It makes them look more attractive inside! It also makes a great base for your clothes and other items to fit inside the drawer.
Lining a drawer is also great if you have an old dresser, that needs a little update and sparkle added to it.
Make Gift Bows with Leftover Wrapping Paper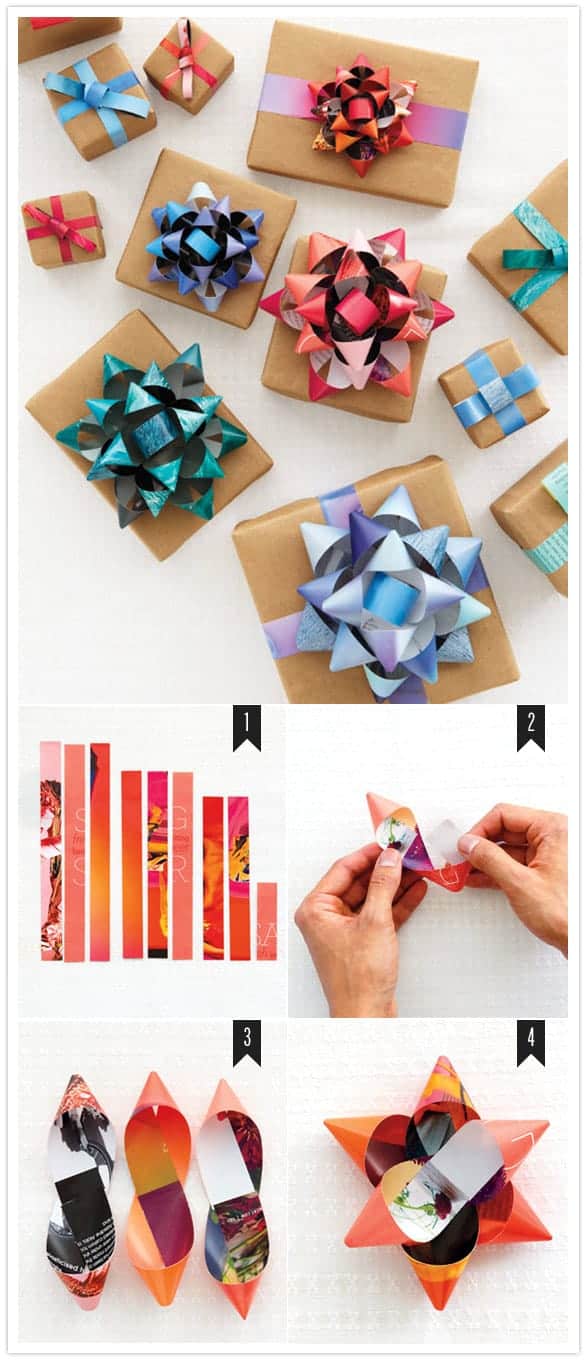 That leftover used gift wrap can also be used to make pretty bows for other gifts you are going to give!
Everyone loves to receive a gift with a pretty bow! They are so easy to make yourself!
See this really easy tutorial for how to make perfect and pretty gift bows.
Make Mini Tree Decorations
Photo: It all Started with Paint
Turn those pieces of wrapping paper into great decorations that you can then use year after year!
These pretty wrapping paper mini trees can be dotted all over your home during the holidays! Get the tutorial here.
Cover Boxes
Photo: Club Crafted
If you have some dull looking storage boxes, wrapping paper is a great way to jazz them up and make them much more fun!
This great hack actually takes storage boxes and turns them into something amazing! See it here!
Cover Your Books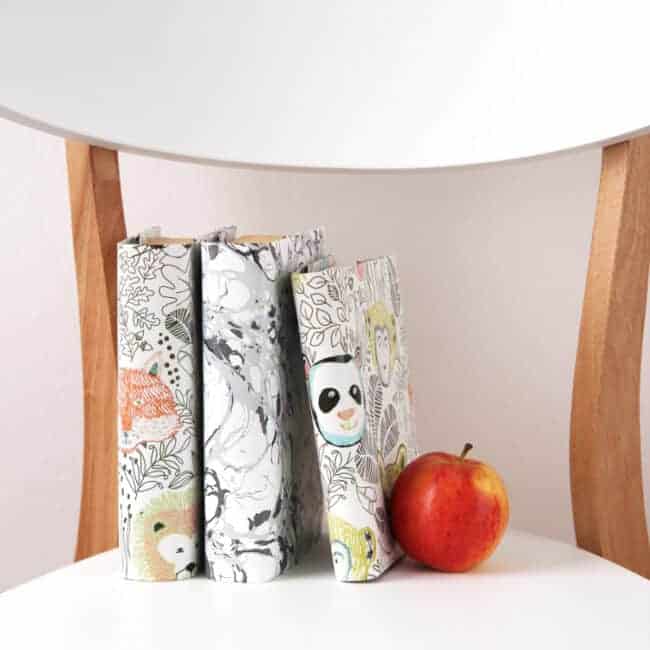 Photo: Gathering Beauty
Another great thing to do with leftover wrapping paper gift wrap is to cover your books with it!
You can make really attractive looking books for your bookshelves with this great and clever hack! See it right here!
Make Pretty Clipboards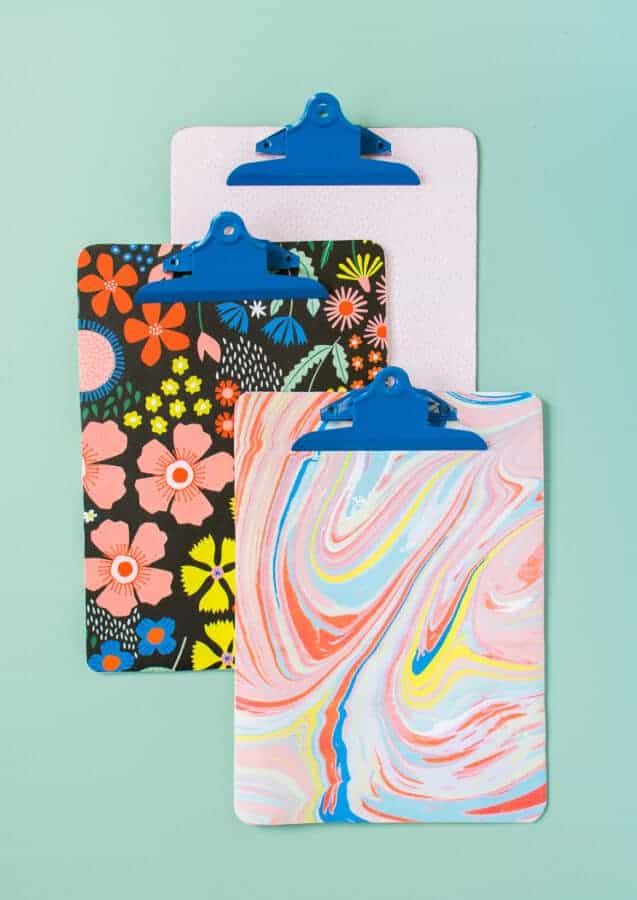 Photo: The House That Lars Built
Turn boring clipboards into beautiful colorful masterpieces! By sticking wrapping paper onto clipboards you can create these beautiful looking boards to use for whatever you need them for! See the tutorial right here.
Paper Placemats
Photo Credit: The House that Lars Built
Take pieces of wrapping paper and cut them into placemat sized pieces! You can create some really fun and funky placemats for parties and more!
Next step you are about to throw away that used gift wrap and wrapping paper, stop! Consider making these unique and wonderful items instead! Be kind to your wallet and the planet!!
You may also love these other posts:
Beautiful and Easy Brown Paper Gift Wrapping ideas
How to be More Organized this Holiday Season!